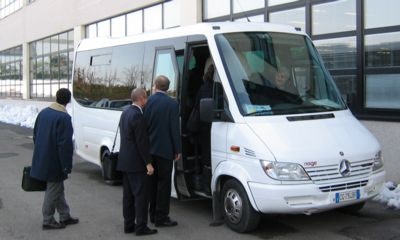 Four days may not seem like much, but for me it made all the difference in changing from a vague knowledge of Italian packaging machinery to getting a first-hand look at the region around Milan and Bologna, Italy. This area is claimed as having the highest concentration of packaging machinery builders in the world.
The press junket was done through the generosity of The Italian Assn. of Automatic Packing and Packaging Machinery Manufacturers (UCIMA); The Italian Institute for Foreign Trade (ICE); and Ipack-ima, the Italian packaging exhibition organization. In the United States, these organizations are represented by the Italian Trade Commission, with the packaging sector offices located in Chicago, IL. The Italy tour was to drum up support for the new tradeshow for the pharmaceutical and parapharmaceutical (nutraceuticals and food supplements) industry, Pharmintech 2004. To be held in Bologna June 8-11, the trade show is co-located with the fourth Pack-Mat packaging materials exhibition and the Safe Food Technology 2004 exhibition of shelf-life extending technologies. Guido Corbello, the managing director of Ipack-ima, expects 10ꯠ visitors for the trade show.
An international group of six journalists from the U.S., Great Britain, Russia, and China visited:
Machinery builders Cavanna SpA, IMA Industria Macchine Automatiche SpA, Marchesini Group SpA, and MG2 Automatic Machines.
Pharmaceutical packagers Gephar/SOCHIM Srl, a contract packer of nutraceuticals, and Bracco SpA. We also visited ingredients manufacturer Dipharma Francis SpA.
Additionally, we toured the unique facilities of Lameplast SpA, which operates as a packaging materials supplier and a contract packager of blow/fill/seal unit-dose containers.
What follows are some points of interest, along with some images from my four-day tour.
Plastic unit-dose supplier Lameplast has opened up a United States facility. In Hollywood, FL, the plant will be FDA qualified April 1. It is a joint venture of Lameplast SpA and World Pharmaceutical Management.
The concept of food supplements is not as popular in Europe as in the U.S. In fact, Dr. Barbara Pacchetti, scientific director of Gephar/SOCHIM, told our group that Europe is five to six years behind the U.S. in that regard.
U.S. consumers purchase 65% of the world's drugs. Japan is a distant #2, at 9.5%, from statistics from IMA.
Lost in translation: One director invited our group to "relax, and take off all your clothes."
Training issues for Euro builders are more complex as some builders must cope with at least four languages: English, French, Spanish, and Italian.
Capsule-filler specialist MG2 does everything in-house including software development and machining. It owns the largest Japanese-made Mazak computerized machining system in Italy, the newest of four Mazak machines at the facility. MG2 uses the machines to turn large aluminum ingots, for example, into custom-made components.
By contrast, IMA outsources 85% of its components to companies in the Bologna area.
Lameplast uses the same stringent production guidelines for cosmetics as for pharmaceuticals, which it sees as an important trend.
IMA points to a trend toward the number of FDA warning letters issued. Yet, packaging and processing equipment expenditures comprise an average of just 1% of drug companies' sales. IMA sees that as having solid sales opportunities for machinery suppliers when companies begin to invest more to better protect their brands and product quality.
IMA reports that generic drugs use is growing faster than the market as a whole, and represents 9% of total sales. Some 92% of IMA's sales are outside Italy.
"Blockbuster products"—those with annual sales of more than $1 billion U.S., are growing: There were 60 such products in 2002, compared to 20 in 1998.
Machinery builder Cavanna SpA operates an internal Packaging Material team. Its materials test department of two engineers operate four wrappers and numerous jaws and sealing wheels. We watched a demonstration of an underwater burst test of just-wrapped chocolates.
We arrived at MG2 at the end of a tiring day. Fortunately, MG2 area manager Marcello Militello was an engaging, energetic, and entertaining host. He reminded me of an older, Italian version of our own master of spontaneity, assistant publisher Jim Chrzan. He was just what we needed.

The Italians' attention to customer service is exemplary. Who would not appreciate dining in Marchesini's executive dining room, where p-s labels on the custom bottles of the owner's own high-quality wine declare "for my friends?" I say come for their machinery, but stay for their food and camaraderie! By the way, Marchesini is planning a major open house in October.

Students on tour?

My memorable visit has spurred an idea. With the dissolving of the Packaging Education Forum, other avenues of industry-university cooperation should be pursued. I suggest that U.S. organizers could arrange a tour similar to the above for the benefit of a range of students from key packaging universities throughout the U.S. These students would spend several days touring U.S. packaging facilities comprising machinery builders, packagers, and converters. Universities, for their part, could recognize a special student to merit such an honor. Not only would students benefit directly personally, the interaction among these students would be a synergestic bonus.

Besides promoting goodwill, there's also the prospect that today's students will be part of tomorrow's machinery and materials buying team. Contributing to the future of our industry is always a sound investment.

Visit PW's schools resource page for more information on packaging universities.

We will offer other further glimpses in the coming weeks of my Italian packaging experiences.

Until then, arrivederci!
Companies in this article