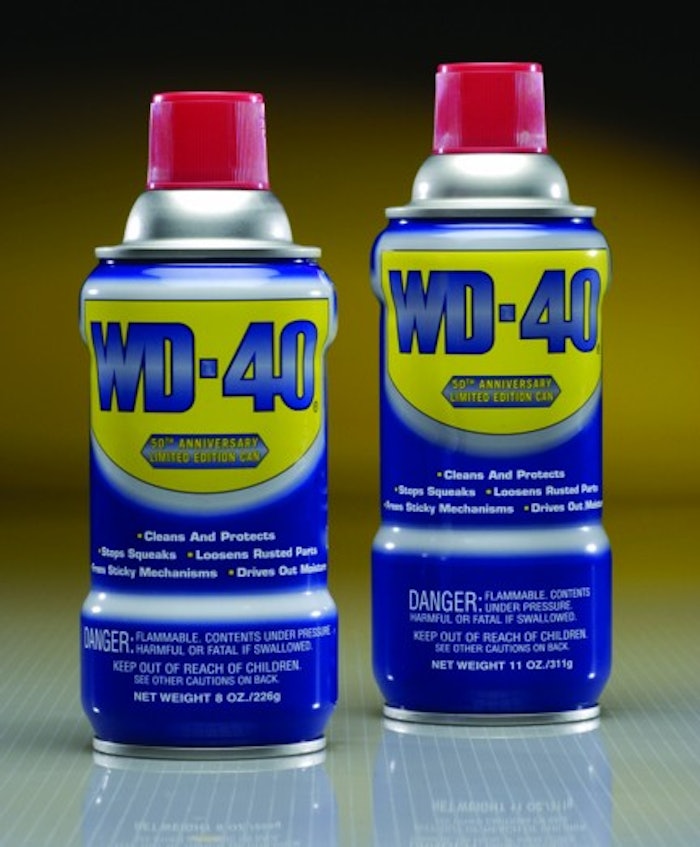 The lithographed containers use Crown's patented high-pressure blow-forming process that has traditionally been used for aluminum cans in the past.
Created for the San Diego, CA-based company's 50th anniversary of WD-40 lubricant, the contoured containers have a comfortable, easy-to-grip shape. In addition, the brand's distinctive signature yellow shield is embossed into the cans to offer a three-dimensional effect to enhance shelf presence.
While the new cans boost appeal, they also were introduced to combat counterfeiting problems in China, where the brand has an estimated 50% market share. According to WD-40 North America president Mike Freeman, counterfeit product in China has an additional 25% market share.
"While counterfeiters are very clever at copying traditional package design, they cannot emulate product formulation and performance," Freeman says. "We want to make sure consumers get the high-quality results they expect from our product and prevent any potential product damage that may result from counterfeit formulations. This new asymmetrical shape will be extremely difficult to duplicate, so consumers will be able to easily differentiate between the genuine and counterfeit packages."
The new 8-oz container was introduced in China in September, and will become the standard package in that region. In October, WD-40 will introduce the 8-oz shaped can through an exclusive arrangement with Wal-Mart in the United States. Early next year, WD-40 will offer the two sizes as promotional items through other retailers. Depending on consumer reaction, the container could become a permanent package in the U.S. as well.
In the process, Crown's Aerosol Packaging, litho-prints flat steel sheet that is formed into a traditional straight-sided can body, says Brad Dahlgren, vice president of sales for Crown's aerosol containers. "Then the finished can body is oriented to accommodate the printed graphics into the mold of the forming machine that uses high-pressure air to create the unique shape," Dahlgren reports. "The equipment needed to be beefed up since moving steel is more difficult than moving aluminum." He adds that the extra step of can forming results in a "fairly significant" upcharge over the straight cylindrical shape.
"The WD-40 silhouette and colors haven't changed in over 35 years," points out Freeman. "With such a monumental anniversary, we were looking for a fun, creative way to celebrate our brand, and increase sales and profits along the way."
Companies in this article