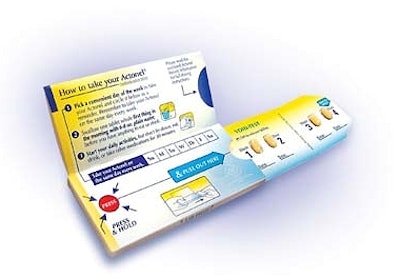 According to IoPP, P&G's Actonel 35mg, Senior Elite Dosepak "is a creative application of a new package design. Patented by MeadWestvaco, the package includes an innovative locking mechanism, which provides the highest level of child-resistance while remaining consumer-friendly. This package also incorporates a pocket, which provides additional printable area for patient information as well as a convenient storage area for a patient information leaflet." P&G Pharmaceutical's principal researcher Ellen Loughren was honored for the pack, which won the Best of Show Award, sponsored by Lansmont Corp..
The 3M Integrity Award went to Perfecseal for its work on the Metaphyseal implant package from Exactech Inc., a Gainesville, FL, maker of orthopedic devices. IoPP notes the "newly designed, double-barrier thermoformed design eliminates unnecessary packaging and reduces costs by 40%. Other benefits include inventory and labor cost reductions and environmental improvements."
Twenty-one experienced packaging professionals selected 36 winners that represented the year's most innovative new packages across the following categories: food, food-institutional, beverage, health and beauty aids, and household products.
AmeriStar winning packages will be displayed Oct. 13 – 15 during the Pack Expo Las Vegas show. Winners will receive their awards Oct. 14, at 11 a.m., during a special press conference in the Showcase of Packaging Innovations Pavilion.
Companies in this article