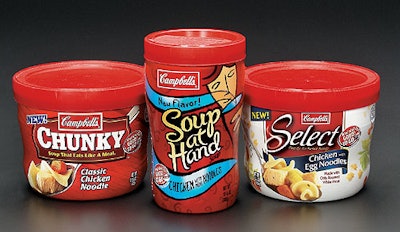 Last summer the Camden, NJ, firm launched Soup at Hand, a 10.75-oz serving of soup in a coinjection-molded barrier container decorated with an oriented polystyrene wraparound label. To read about it in Packaging World, please click here. At this year's FMI show, Campbell announced seven new varieties of Soup at Hand, which retails for $1.49, and 10 varieties of soups in a brand new 15.25-oz bowl with a suggested retail price of $2.19. The new packages are scheduled to arrive on store shelves in August.
Consumers want "a more convenient and portable way to enjoy" Campbell soup, says Jeremy Fingerman, president of U.S. Soup, Campbell Soup Co., in explaining the new offerings.
Details on packaging materials and suppliers were only partially available at press time. Presumably the 15.25-oz container is similar to the coinjection-molded barrier container used for Soup at Hand. Seamed to the top of the new container is a scored metal end with a ring pull for opening. Decoration is the same as that used for Soup at Hand: a full-wraparound foam label made of oriented polystyrene and flexo printed in four colors by American Fuji Seal. A bright red plastic overcap completes the new package.
Shown here is Soup at Hand flanked by two of the 10 soup varieties soon to be available in the new 15.25-oz bowl.
Companies in this article