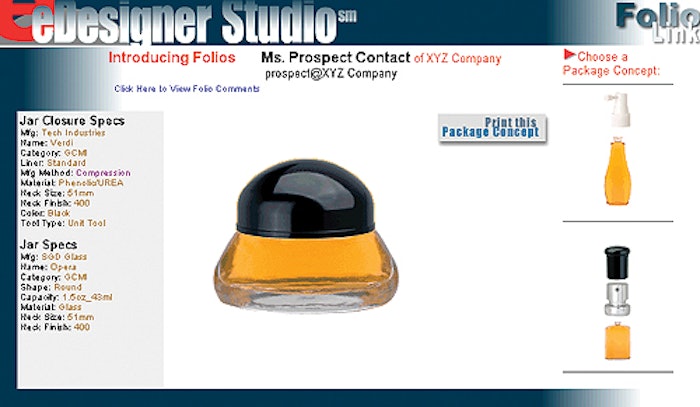 According to Lustig, using eDesigner Studio allows her to obtain instantaneous feedback without having to search for different components for a package design. "It allows me to rule out certain combinations before a lot of time and effort is invested," she says.
eDesigner Studio is an online resource for package designers in the cosmetics, fragrance, toiletries, and personal care industries. According to eDesigner Studio, it is not a marketplace for selling or buying stock components. It provides an electronic catalog of photo images of stock components from different stock suppliers, which allows designers to mix and match these photo images to visually test how combinations of stock components would look if used together.
"I get an idea of how two components will look like together as a silhouette or color combination with the online ability to switch colors and styles and judge approximate technical match-ups of top and bottom packaging components," says Lustig.
After registering at www.edesignerstudio.com, a user has access to two major features on the site: mix-and-match and folio. Both mix-and-match and folio display the created packaging concept and provide technical data, rates of production, and supplier information for each component in the package, such as bottles, closures, and pumps. Free samples can be ordered online through each supplier.
Although the mix-and-match feature is useful, the folio feature offers even more. Users can save the package concepts for future use. It provides the ability to e-mail a folio to others, or save it to use in a presentation. The folio includes the thumbnail combination and information, along with room for a message from the designer sending the folio.
According to eDesigner Studio, there are 50 new visitors a week and 200 returning users a week. As of October, eDesigner Studio had 10 participating stock suppliers. "The site is easy to use," says Lustig. "I am looking forward to seeing additional suppliers included in the mix."