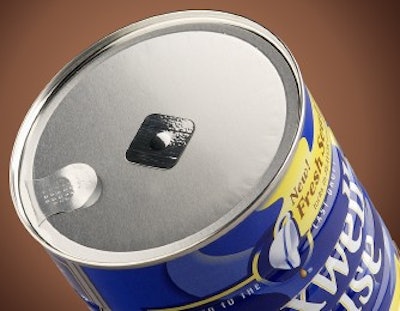 Included in the switch are 13-oz cans of Maxwell House, 11-oz cans of Colombian Supreme, and 11.5-oz cans of Master Blend, French Roast, Lite, Espresso Roast, and Slow Roast coffees. The Glenview, IL-–based food giant promotes its new pack as "Fresh Seal" and adds the tag line "locks in flavor and aroma." Written instructions complemented by graphics explain how to use the "Fresh Seal can with the E-Z open top."
In making the switch, Kraft selected the patented Valved Ultra-Seal® membrane technology from Sonoco (Hartsville, SC). It's a foil membrane heat- sealed to a 401 rim. In its center is a one-way freshness valve. The valve permits the release of internal pressure that builds as the freshly ground coffee gases off, but it does not permit oxygen to enter the container. Because the valve lets gas escape, Kraft can package its coffee immediately after the coffee beans are ground rather than letting the grounds gas off. A gassing-off period is required when a conventional valveless end is used, because otherwise the trapped gas would build up and have nowhere to go. Because Kraft can package its coffee right after grinding, the freshest possible flavor and aroma can be captured.
Also significant are the convenience and safety features that come with an end like this. Cumbersome can openers are not required. Instead, the consumer grips a tab and peels the membrane away from the rim of the can. Perhaps even more significant, there are no sharp edges on the inside of the rim once the can is opened. The inner circumference of the rim is smoothly rolled during its manufacture.
Kraft is believed to be the first major North American coffee producer to convert to Sonoco's Valved Ultra-Seal closure.
Companies in this article