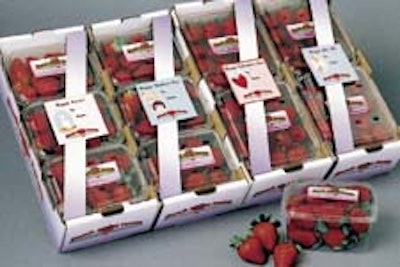 Each corrugated Party Pak (four are shown below) contains either two 2-lb clamshell packages or three 1-lb clamshells. The thermoformed polyethylene terephthalate Mixim™ clamshells from Sambrailo Packaging (Watsonville, CA) provide good visibility, quick cooling and gentle berry handling, according to Beach Street owner Fritz Koontz. The gentle handling is a function of the material's smoothness. "There are no ridges on the clamshells, so they don't bruise the strawberries," says Koontz.
In addition to being more attractive, the Party Paks also employ a configuration that utilizes pallet space efficiently. Koontz estimates the package makes it possible to fit 10 to 20% more fruit on each pallet compared to comparable strawberry packaging systems. That saves Beach Street approximately $400/truckload, he says.
In addition to supplying the recyclable Mixim clamshells, Sambrailo also provides the assembled Party Pak trays—made of 44ECT corrugated and five-color, pressure-sensitive labels used to promote the berries at various holidays. Available at select club stores and high-end grocery stores nationwide, the Party Paks retail for $4.50 to $5.99.
"Consumers like the packaging," says Koontz. "It gives them an attractive gift-type item for around the holidays."
Sambrailo Packaging, Phone: 831/724-7581.
www.sambrailo.com
Companies in this article