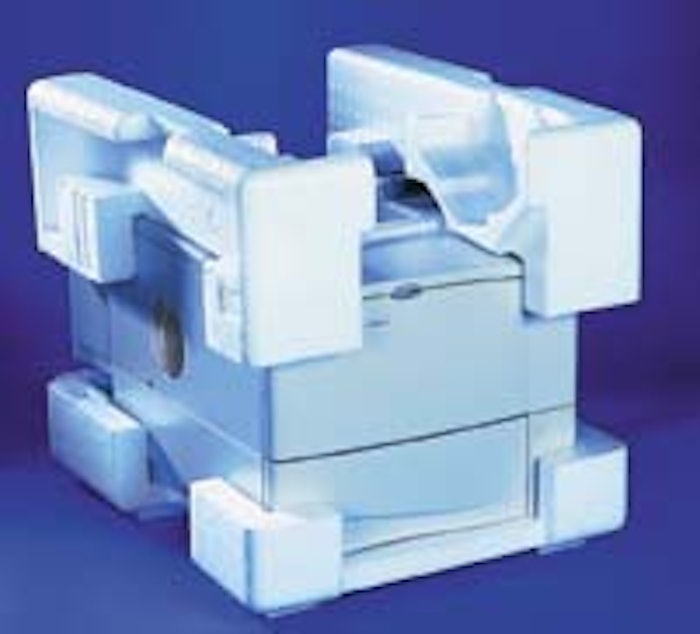 The three-piece cushioning, which weighs a total of 1 lb, was specifically developed to allow the printers to withstand the rigors of business-to-consumer (B2C) distribution.
Arcel 730, which yields a 20% smaller average bead size to allow more precise molding, thinner walls, reduced material usage and easier processing. According to Nova, Arcel 730 is an "interpenetrating network polymer blend" of 70% polystyrene and 30% polyethylene. Nova says it can be given the same #6 recycling code that PS gets.
The smaller bead size also allows molders to use current molding equipment, points out Lou Gregorek, packaging engineer at HP. He worked closely with Nova and molder Radva Corp. of Virginia (Radford, VA) in cushion design, prototype testing, tooling and technical support.
Gregorek says the material "delivers value by effectively cushioning the 4050 LaserJet line." Although the new resin blend is more expensive than the high-impact PS inserts HP had been using, Gregorek says they've been able to reduce the amount of material. He also says the new inserts arrive intact with the printers to make a better impression with consumers. He say the HIPS inserts had been prone to cracking. In the U.S., the pieces are molded by Radva and Marko Foam Products of California (Corona, CA). Components are molded regionally throughout the world.
Companies in this article