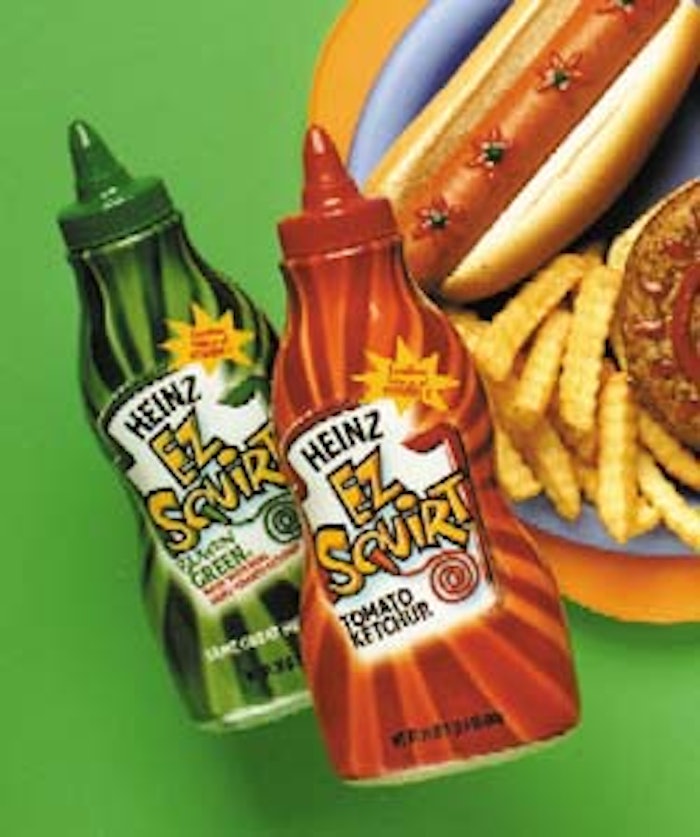 A custom nozzle lets kids "paint" with a thin stream of ketchup. And a full-body, shrink-sleeve label makes the pack stand out on the store shelf.
Pechiney Plastic Packaging (Chicago, IL) coextrusion blow molds the 39-g bottle, which has a six-layer structure: polypropylene/regrind/tie layer/ethylene vinyl alcohol/tie/PP. The 38-mm neck finish has a two-piece, twist-to-open dispensing spout much like the ones found on plastic mustard containers. Creative Packaging (Buffalo Grove, IL) injection-molds the PP base and linear low-density polyethylene spout. The closure has been customized to produce a stream of ketchup just 3/32" wide.
American Fuji Seal (Bardstown, KY) produces the full-body shrink label, which is a 2-mil oriented polystyrene that's gravure-printed in nine colors.
Initial quantities of Heinz EZ Squirt, including an artificially colored green version called Blastin'Green, will begin to appear in October. National distribution should be complete by the end of the year, says brand manager Kelly Stitt.
Both Stitt and manager of packaging material systems Wayne Cleary acknowledge that this is not an inexpensive package. But, as Cleary puts it, "It's about image. This is a breakaway package."
Some of the package cost will be passed along. The 24-oz bottle of Heinz EZ Squirt will retail for $1.79, while 24 oz of regular Heinz ketchup in a 5-layer barrier bottle consisting primarily of polyethylene terephthalate is $1.49.
Companies in this article