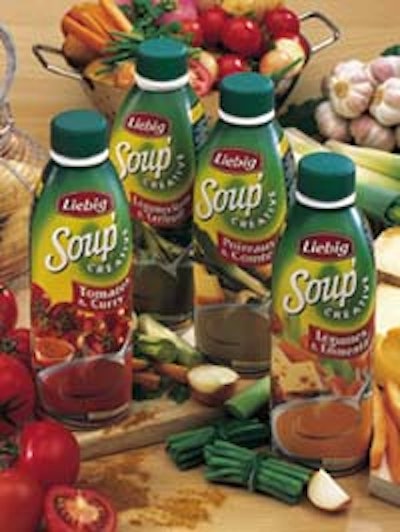 Liebig, the leading soup marketer in France, led the way with aseptically packaged ready-to-serve soup when it launched its PurSoup' line in brick-style packages in 1986. Last fall, the Grenoble-based firm broke more new ground with the launch of its Soup'Cre'ative line: four ready-to-serve vegetable soups aseptically packaged in 1-L plastic bottles. Full-body sleeve labels display bold, high-impact graphics. The soups sell in supermarkets throughout France for about FF 15 (U.S.$2.15). Shelf life is nine months.
Liebig doesn't say what plastic resin is used to make its bottle. Packaging material specs and details on filling machinery are considered proprietary, says Liebig spokeswoman Patricia de Longueville. She also says the plastic bottle is intended as an alternative to, not a replacement for, brick packs of Liebig soup. Longueville doesn't say what consumers pay for the 1-L brick compared to the bottle.
One glimpse of the filling machinery used by Liebig was provided last December at Drink Pak '99, sponsored by Ryder Associates and Future-Pak Conferences (Appleton, WI). Conference speaker John Caporaso, vice president of foodservice R&D at Campbell Soup Co., which bought Liebig from the Danone Group in late '97, showed a photo of the bottle and indicated that aseptic filling is done on a Serac (Carol Stream, IL) system.
It's worth noting that where Campbell has gone to plastic containers in the U.S. market—Pace picante sauce, ready-to-serve soup, V-8 and Splash—a hot-fillable plastic container has been the company's technology of choice. Will the giant food company now explore aseptic filling of plastic as an alternative to hot-filling now that it can study and learn from the technology developed by its French subsidiary?
Companies in this article