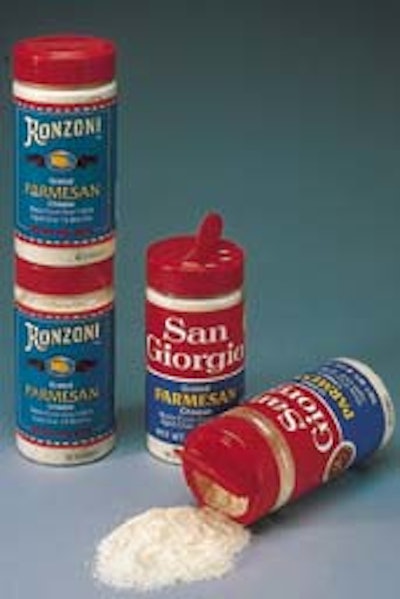 One of Icco's key objectives, says vice president John Angiolillo, is to use packaging that's every bit as appealing as that of Kraft Foods, the king of grated cheese.
So when Kraft successfully moved its cheese out of a conventional spiral-wound paperboard canister and into polyethylene terephthalate a while back, Icco did the same. Launched in the summer of '99, the PET container is ribbed for added sidewall strength. It was developed and is supplied by O. Berk Co. (Union, NJ). A 70-mm injection-molded polypropylene dual-flap closure from Weatherchem (Twinsburg, OH) lets consumers shake cheese from one side or spoon it out of the other.
Benefits gained since the switch to the injection/stretch blow-molded container, says Angiolillo, include reduced moisture loss, prolonged freshness and a larger opening from which to dispense the cheese. He also sees the container as more environmentally friendly because, he says, PET is more likely to be recycled than a container that incorporates metal, paperboard and plastic. On top of all that, he adds, "The cheese looks good in the container, which is more consumer friendly." Container cost, says Angiolillo, remained basically the same when the new package was introduced.
Consumer response to the plastic package has been gratifying, says Angiolillo, as sales have increased 26%.
Companies in this article