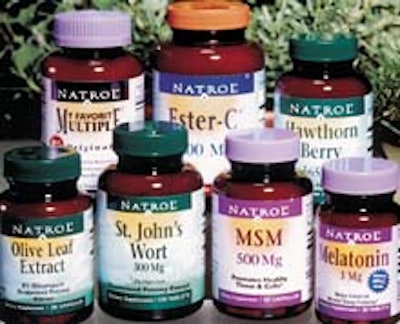 According to director of purchasing Lisa Ziegler, PET is lighter and more shatter-resistant compared to glass, cleaner and better able to resist scratches and breakage than PS, and clearer than HDPE.
In addition, by settling on one container material rather than three and satisfying all its PET requirements through one supplier, "our costs actually came down," says Ziegler. She doesn't quantify the savings but says it's significant.
Captive Plastics (Piscataway, NJ) makes the 60-, 75-, 100-, 150-, 200-, 250-, 300-, 400- and 500-cc stock bottles on an Aoki (Elk Grove Village, IL) single-stage injection/ stretch blow-molding machine. Bill Kroeschell, manager of business development at Captive, says the resin used is Eastapak® from Eastman Chemical (Kingsport, TN). Clarity, luster and toughness are the characteristics he says he likes in the Eastapak polymer.
Natrol sells its nutrition supplement products in mass merchandise and health food stores coast to coast and internationally. Price at retail ranges from $4 to $20, depending on size and variety.
In a hurry? Request more info via Web-based reader service by clicking on the reader service number.
Or you can jump right to their Web site if one is listed.
Companies in this article