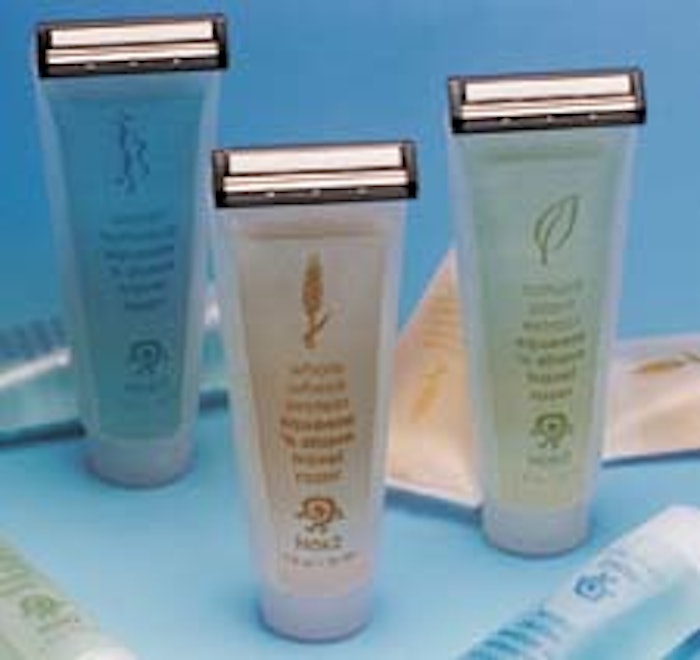 Squeeze 'n Shave Travel Razor, marketed by Hoke2 of Campbell, CA, is a travel kit that comes with three 1-oz tubes of shave gel, three razors and one polypropylene shell. The razor slides onto the shell's top end, and the tube snaps into the shell's cavity, making a sturdy handle for shaving. Jack Hokanson, president of Hoke2, says consumers should be able to get a week's worth of shaves out of one tube. Available in bed and bath stores since September, the travel kit sells for $12.
Hoke2 designed the tube and injection-molds the shell in-house. JSN (Irvine, CA) injection blow-molds the monolayer low-density polyethylene tube. JSN also offset-prints the tube in one color plus a matte coating and injection molds the PP cap. Tubes are filled at Libby Labs (Berkeley, CA).
Laminate tube of the year went to Plano, TX-based The Beauty and Health Works Co. for its Phyto Systéme Gel; tube manufacturer is Cebal America/Pechiney Plastic Packaging. Metal tube of the year was Vitabolic Face Cream with Pure Vitamin C, marketed by Lancome LLC, New York; the tube is manufactured by Montebello Packaging. Plastic tube of the year went to New York-based Avon's Anew Ultra Force Hydrating Cleanser; it is manufactured by Tubed Products, Inc.
In a hurry? Request more info via Web-based reader service by clicking on the reader service number.
Or you can jump right to their Web site.
Companies in this article