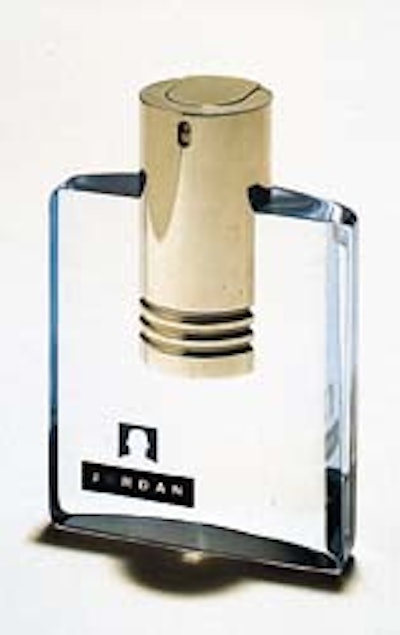 The unusual bottle is produced in France by Saint-Gobain des Jonqueres, represented in the U.S. by SGD Glass (New York, NY). In the blow-and-blow glass-making process, blue granules are added throughout the bottle to create what Bijan calls a "Mediterranean blue." During glass-making, blue and black ceramic material is "fired" into the bottle, creating the name and logo on the front. Topping the bottle is a low-profile pump closure, designed with Risdon-AMS's (Naugatuck, CT) Crimpless System. The five-piece closure system includes metal and electroplated polypropylene pieces.
The preassembled pump closure is friction-fit into bottles by contract packager Universal Packaging Systems (Chino, CA).
Bijan touts the package as one that fits nicely into a man's hand. Jordan by Michael retails at fine department stores for $35 in the 50-mL size, $48 in the larger version.
In a hurry? Request more info via Web-based reader service by clicking on the reader service number.
Or you can jump right to their Web site.
Companies in this article