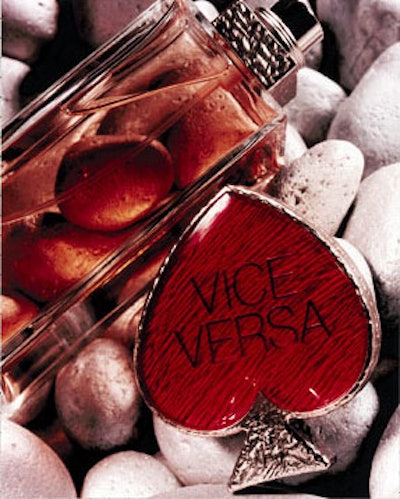 One challenge behind its development was identifying a plastic material that couldn't be scratched and that possessed chemical resistance to fragrances. The Paris-based fragrance company selected Eastar® PCTA acid-modified copolyester from Eastman Chemical (Kingsport, TN) for the job.
MT Packaging (Le Mans, France) molds the heart-shaped piece, adding a colorant to the masterbatch to achieve the red look. Around the perimeter of the piece, a narrow band of aluminum is positioned by hand. "A little pressure is exerted on the heart, but the properties of the PCTA copolyester allow the band to be positioned easily," says Gilbert Bourgault of MT Packaging. The heart snap-fits onto the threaded closure, which is applied by hand after the glass bottle is filled.
According to Patrice Meresse of Yves Saint Laurent, Vice Versa was introduced to the European market in time for Valentine's Day '99. The 75-mL (2?-oz) bottle sells for the U.S. equivalent of about $50.
In a hurry? Request more info via Web-based reader service by clicking on company name.
Or you can jump right to their Web site if it's listed.
Companies in this article