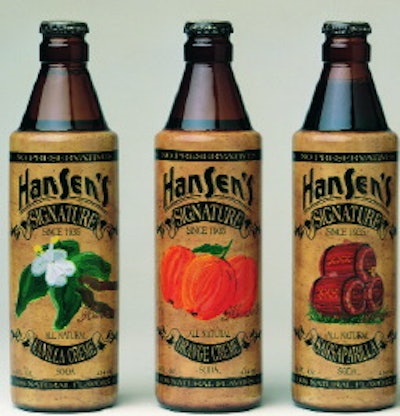 'The bottle is supposed to convey a nostalgic, premium feel," says Mark Hall, senior vice president for the Corona, CA-based company. "We were trying to recreate the taste and the look of the old sodas," he adds. The drinks are available in six classic flavors including sarsaparilla, ginger beer and sangria.
The 14-oz custom amber bottles from Vitro Packaging (Dallas, TX) have a tapered neck and a slight shoulder. The shrink label is made of 2-mil polyvinyl chloride. Hand-painted graphics on the label are surface-printed on a gravure press in nine colors by Reynolds Metals (Richmond, VA).
"We consider these drinks specialty drinks," Hall says. "Because they are more expensive than regular sodas, we expect consumers to purchase these for special occasions or when they want to treat themselves. I think the packaging helps convey that."
Introduced nationally in February, the beverages retail for 99¢ to $1.19. In October, Convenience Store News selected the signature soda line as the Best New Product for 1999 in the Beverage, Non-Alcoholic category.
Companies in this article