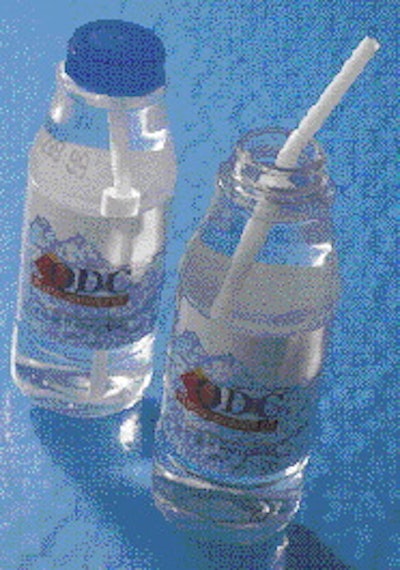 The Straw-In-Bottle, from The PopStraw Company (Roseville, MI), will be used for about 20 varieties of milk, juice and water, all in 16-oz polyethylene terephthalate bottles. Lansing, MI-based QDC will sell them at its 32 Michigan convenience stores.
"This is a concept we've partnered with PopStraw to develop during the past three years, and our own dairies will probably be the first to sell it commercially," says QDC's national sales manager George Tomasso.
Promotional versions of the bottles (shown) were given away as samples at the Worldwide Food Expo in Chicago in October. Those bottles were injection/stretch blow-molded by QDC's Plastic Container Co. (Lansing, MI) subsidiary. Portola Packaging's (San Jose, CA) Nepco snap-on neck closure topped the promotional bottle, which also included a pressure-sensitive wraparound label printed with the logos from both QDC and PopStraw.
Straw-In-Bottle includes a food-grade foam floating device that provides the buoyancy necessary for the straw to pop out of the bottle when opened.
Tomasso says that QDCPC also marketed the straw-filled bottles to other companies at the Expo. QDCPC will insert straws into bottles it sells. "We'll be installing the mechanisms needed to insert the straw by mid-first quarter of next year," he says.
For QDC (and external customers), straw-filled bottles are shipped to individual dairies for filling. Tomasso says the addition of the straw will not slow filling processes.
As for economics, Tomasso says QDC currently sells its 16-oz beverages for 99¢, but that may change. "I think there will be an added cost for beverages that include this straw, but we're looking at the material costs and [trying to determine] the most economical way to do this. We want to make sure we're competitive with this innovation."
Companies in this article