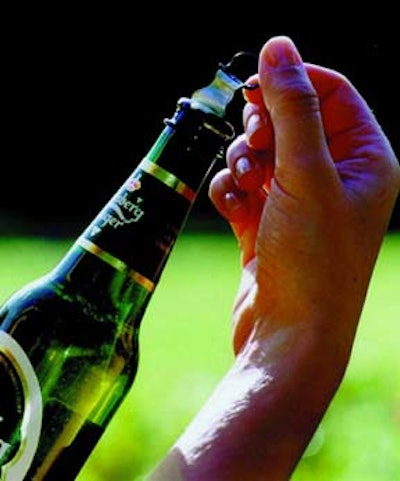 com/go/ carlsberg), Copenhagen-based Carlsberg AS has announced its Carlsberg-Tetley subsidiary is launching a one-way plastic beer bottle in the United Kingdom. Made by Schmalbach-Lubeca (Manchester, MI), the 500-mL bottle weighs 29 g. It is co-injection/ stretch blow-molded and consists of "modified" nylon between two layers of polyethylene terephthalate. Schmalbach-Lubeca isn't saying if the bottle incorporates an oxygen scavenger.
Like the monolayer PET beer bottle it replaces, the new bottle is not intended for retail distribution. It's for outdoor stadiums and similar venues where distribution can be more carefully controlled. The advantage of the new barrier bottle, says a Carlsberg-Tetley spokesman, is that it provides a six-month shelf life at ambient temperatures. This lets Carlsberg-Tetley expand distribution of plastic bottles into clubs and other on-premise outlets that couldn't use monolayer PET, where shelf life was little more than a month.
Also notable on this bottle is the aluminum crown closure with PE ring-pull overmolded onto it. Supplied by Japan Crown Cork (Tokyo, Japan), it's the same closure used by Carlsberg on its returnable/refillable bottle in Denmark, and it incorporates an oxygen absorber. "The new ring-pull device will make [the bottle] much easier to open and enjoy," says Carlsberg-Tetley's Bernie Ray, managing director of on-trade sales.
Carlsburg wouldn't comment on the cost of the new package.
Companies in this article