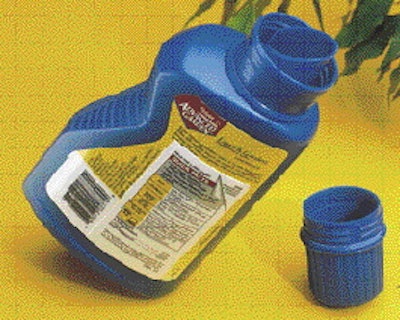 Used for products in the Bayer Advanced Garden(TM) line, the custom containers are supplied by Owens-Brockway Plastic Products (Toledo, OH).
Most unusual in the group are the containers for 16- and 32-oz "concentrates" (the 16-oz version is shown here). Owens-Brockway produces them on its BC-3 machinery. Using a proprietary process, the machine injection-molds a neck finish that includes a pour spout and threads. In a second step at a separate station on the BC-3, the block tool that holds the neck is positioned on top of an extrusion blow-molding machine. This machine extrudes high-density polyethylene upward into the neck area, creating the bottle. The neck finish accommodates an injection-molded polypropylene closure. Combined, they make a drain-back closure system similar to that on laundry detergent bottles. According to Mark Schneid, director of marketing, the system permits Bayer customers to easily mix, measure and pour the insect-killing concentrate.
On the back of the concentrate container is a p-s extended text label, from CCL Label (Rosemont, IL).
A joint-venture company based in Birmingham, AL, Bayer-Pursell plans to debut the new line in early 2000. Nationwide distribution is planned in time for the spring season.
Companies in this article