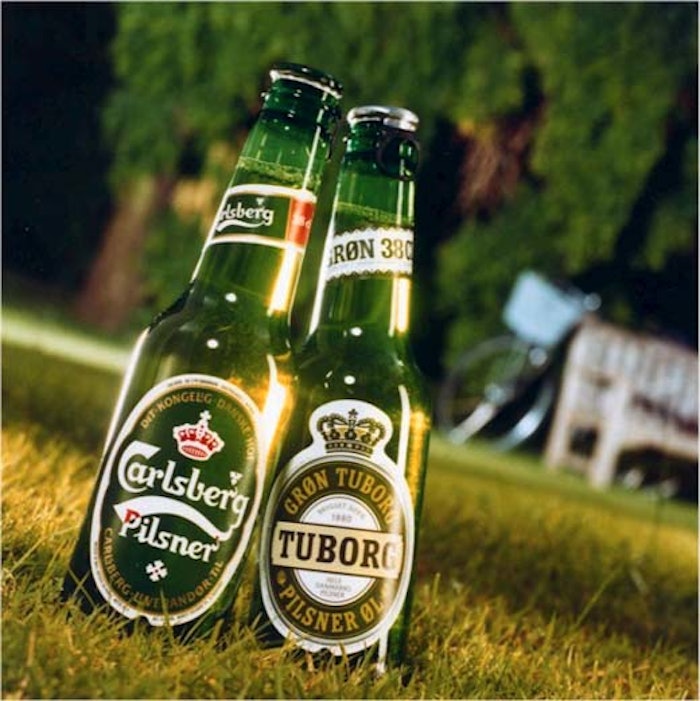 2 or packworld.com/go/beer). Now PEN is back in the spotlight with the launch last month of two Carlsberg brands in Denmark: Carlsberg Lager and Tuborg Green Label. The refillable bottles are expected to make 20 trips, says Copenhagen, Denmark-based Carlsberg.
Weighing 38 g and holding 38 cL (12.85 oz), the green bottle provides a three-month shelf life. Assisting is an aluminum closure that incorporates an unidentified oxygen absorber. Supplied by Japan Crown Cork (Tokyo, Japan), the crown closure is applied by a conventional crowner. The consumer opens it by pulling up on a low-density polyethylene ring pull overmolded onto the aluminum closure. Pulling loosens the crimp holding the aluminum snug around the 20-mm finish, permitting easy removal of the closure.
Carlsberg development manager Jan Rasmussen says a conventional crown was never an option because it would damage the finish of the refillable bottle. Threaded caps were rejected because they are the province of water and soft drinks, says Rasmussen. He admits the pull-tab closure is more expensive than a conventional crown, but he doesn't quantify.
PLM AB (Lidkping, Sweden) injection-molds preforms for the bottle at its Lidkping plant. Stretch blow molding is done at PLM's facility in the city of As in the Czech Republic. PEN resin is supplied by Teijin (Osaka, Japan).
Rasmussen says the bottle is able to withstand caustic wash temperatures identical to those used on glass. The PEN bottle costs more than glass, he adds, but again he chooses not to quantify. He also says Carlsberg has no plans to replace glass at this time.
Companies in this article