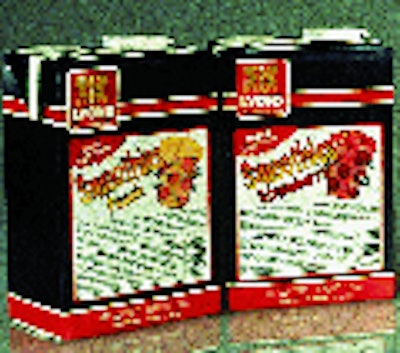 While frozen and hot-filled smoothies are available to foodservice operators, Lyons-Magnus believes it is the first to offer this product in an aseptic package. Foodservice operators just open, pour and blend with ice for a finished smoothie.
Either one of two Combibloc (Columbus, OH) fillers is used to
produce the 46-oz Combibloc Pour'nSeal® aseptic cartons. The reclosable pour spout is injection-molded of polypropylene by J.L. Clark (Rockford, IL) and applied in-line to carton blanks at the Fresno plant where Lyons-Magnus processes and packages the smoothies.
"We believe that by aseptically packaging our smoothies, we're giving foodservice operators a unique opportunity to add this popular and profitable beverage concept to their menus," says Lyons-Magnus president Bob Smittcamp.
Smittcamp points to three key advantages that aseptic cartons offer in a foodservice kitchen compared to alternative smoothie-making approaches. First, there's no chopping, measuring or clean-up time as there is when fruit smoothies are made from scratch. Second, there's no time-consuming thawing process as there is with frozen mixes. And finally, the Pour'nSeal cartons are convenient.
The smoothies come in six flavors. A single carton blank is used, and Lyons-Magnus differentiates one flavor from another with a front-panel pressure-sensitive label.
Available now for about one year, the new line of aseptically packaged smoothies is a hit. "The response to the product line has been outstanding," says Smittcamp.
Companies in this article