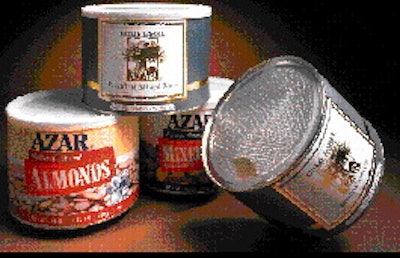 "Our conversion to paperboard canisters," says Stewart, "gives customers what they want and more: a safer and more convenient package."
The 603 x 408 spiral-wound composite canister adopted by Azar comes from Sonoco (Hartsville, SC). It's constructed of two plies of 100% recycled Duro® paper with a foil liner, a structure that provides all the oxygen and moisture barriers Azar requires. The bottom is a seamed-on steel end and the top a Sealed-Safe(TM) opening system consisting of a peelable foil membrane attached to a steel rim. A polypropylene overcap completes the package.
"This will boost sales," says Mike Empson, vice president of purchasing. Why? "All of our competitors in the foodservice industry use can-opener-assist packaging."
The easy-open canister also is safer for consumers since it doesn't have the sharp edge that an opened steel can has, notes Stewart. Disposal of the leftover metal disc and the can itself, which doesn't compact as easily as a composite canister, were also negatives while the metal can was in use. Empson admits the new canister costs a little more. But he says the upcharge is negligible and the benefits gained from the material substitution make it a sound investment.
Because Azar markets more than 200 SKUs of nut products (almonds, pecans, walnuts, mixed nuts and sunflower kernels), Sonoco provides cans with a plain foil exterior so Azar can fill and label to order. Product weights vary depending on the nut variety.