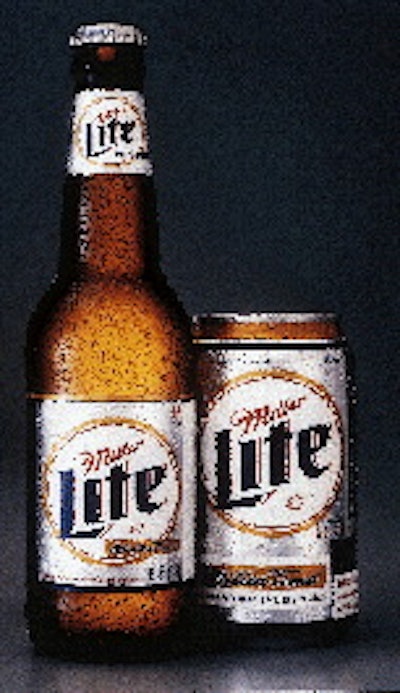 sporting four-color gravure-printed metallized labels supplied by various vendors.
The new labels are used on 12-, 22-, 32- and 40-oz glass bottles. Cans in 12-, 16- and 24-oz sizes will carry matching graphics, as will all secondary packaging for both bottles and cans. In all, seven different can designs have been created, with two new label designs and three bottle neck labels.
According to Miller, the contemporary-looking labels include overlapping message boxes, bright colors and multiple typefaces. Examples of label copy: "No assembly required," "Union made with cheerful enthusiasm," and "This beer has your name on it. No wait, it has our name on it. Whatever."
"Our new look complements our brand personality and overall presentation to consumers," says Mike Johnson, Miller Lite brand director. "Their response to our marketing campaign led us to this new look." Miller credits Sandstrom Design (Portland, OR) for designing the new look, which dovetails with the company's well-known "Miller Time" ad campaign.
Separately, Miller is also in the midst of a summer promotion that relies heavily on packaging. The promo uses scented scratch 'n sniff paper labels glued to the inside of polyethylene lids. Miller breweries use automated equipment to apply the lids to the tops of specially marked 12-oz cans in 12-, 15-, 18-, 24- and 30-count packs. But Miller wouldn't reveal how it executes that task. The promotion involves a variety of scratch 'n sniff scents. Consumers whose cans have lids with the right scent win prizes.
Companies in this article