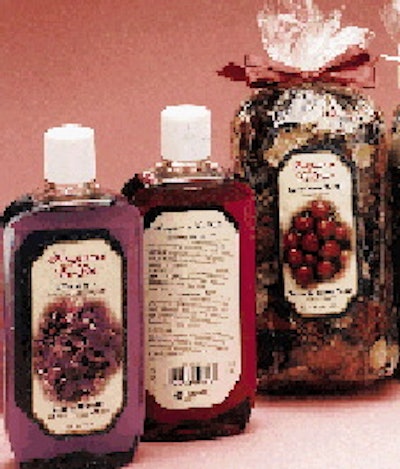 With 48 SKUs in the line, consistent and appealing graphics became a priority for the Cincinnati-based company.
With design help from label converter Model Graphics and Media (Cincinnati, OH), Candle-Lite played up images that correspond to its fragrances, such as peaches for the peach blossom fragrance. Using different colors for each product created a color-coding system to help consumers quickly recognize the product they want from busy store shelves.
Among the packages in the line are the ones shown here: polyethylene terephthalate bottles for potpourri oils and a cellophane bag for potpourri. Both formats rely on pressure-sensitive labels that won awards in the Printing Industries Premier Print Awards. Mactac (Stow, OH) provides the White Gold® label stock, a 65#-test paper stock that uses a "proprietary latex additive" to create a virtually nonporous surface. This allows crisp printing, minimizing ink saturation into the paper. In a single pass, the stock is flexo-printed in six colors, and a clear self-wound polypropylene laminate is applied. The laminate provides more protection than a varnish, says Model Graphics' John Knizner, as well as a high gloss. The 5-mil labels are then die-cut into three sizes for the different product varieties.
The Fragrance De-Lite line is sold in mass markets nationally. Suggested retail price ranges from 99¢ for the sachet product to $3.29.
Companies in this article