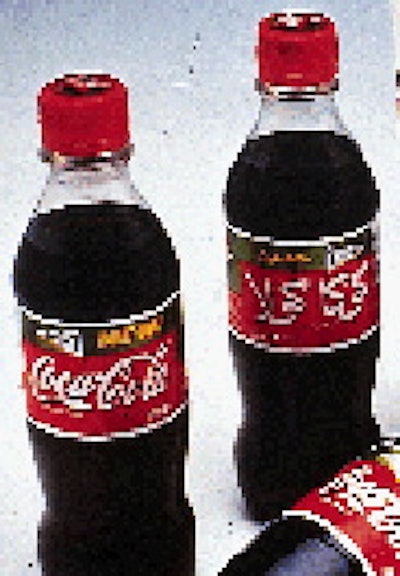 Introduced in Saudi Arabia in April, the bottle is blow-molded by Advanced PET Technologies, a joint venture between CPT and Zamil Plastics of Saudi Arabia.
Previously, a single-serve carbonated soft drink filled in PET had a very limited shelf life due to that country's hot climate. In a bottle holding less than 20 oz, the bottle's surface-to-volume ratio causes carbonation loss too quickly.
CPT's five-layer bottle incorporates two thin layers of MXD-6 nylon that serve as a barrier against carbonation loss; Mitsubishi (New York, NY) provides the nylon. The bottle is injection stretch/blow-molded in a two-stage process. Sequential coinjection molding of the preforms, a proprietary process, is particularly complex, especially in the design of the hot runner manifolds. The process injects virgin PET, then MXD-6, and then post-consumer RPET into each mold of a 48-cavity tooling system made by Husky (Bolton, Ontario, Canada).
The ratio of virgin PET to nylon to RPET is 55:3:42. By minimizing the nylon, which is pricey, and adding RPET, which costs less than virgin PET, costs can be kept in line. The layers separate readily in conventional PET recycling systems, says CPT.
Interestingly, this bottle is very similar to the one CPT makes for Veryfine's 8-oz Chillers® and Quenchers(TM) (see Packaging World, Dec. '95, p. 44). These juice bottles, however, incorporate ethylene vinyl alcohol instead of nylon for barrier purposes. According to CPT's Wayne Collette, EVOH is unsuitable for carbonated beverages because as CO2 gas permeates the PET and is stopped at the EVOH layer, pressure builds that can cause layers to separate. "MXD-6 has more bonding sites than EVOH so it resists delamination," says Collette.
The new bottle was commercialized first in torrid Saudi Arabia because heat hastens the rate at which CO2 permeates PET. At temperatures in the range of 72°F says Collette, this 400-mL bottle yields a 15-week shelf life; at 100°F it's cut to eight weeks, he points out.
Collette believes this new technology will prove attractive to U.S. marketers, and not only in soft drink circles. He predicts we'll see a test of beer in this structure some time in 1998.
Companies in this article