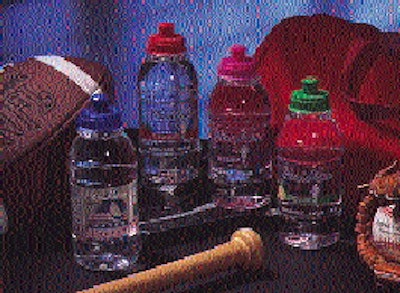 can now justify a switch from extrusion blown to injection/stretch blow-molded bottles of polyethylene terephthalate.
"I'm contracting for over 20 million bottles this year," says owner Steve Lovinger. Such volumes make it worthwhile for bottle supplier Grafco (Hanover, MD) to take Meridian on as a user of injection/stretch blow- molded bottles. "The new bottles will cut defects down to almost nothing, increase our bottling speeds and provide a good, clear bottle," he says. Because of the difficult-to-keep tolerance on the extrusion-blown PET bottles, defects had been a problem. Lovinger estimates that with the new bottle, the defect rate will drop from 2% to .25%. Because it's easier to cap, using Nepco's (New Castle, PA) snap-on push-pull closure, production speeds will increase by 25%.
The injection-blown bottle began to hit convenience stores in April. This marks the company's third bottle. The beverage was introduced in PVC bottles, moved to an extrusion blown PET last year (see Packaging World, October '94, p. 2), and now has graduated to injection/stretch blow.