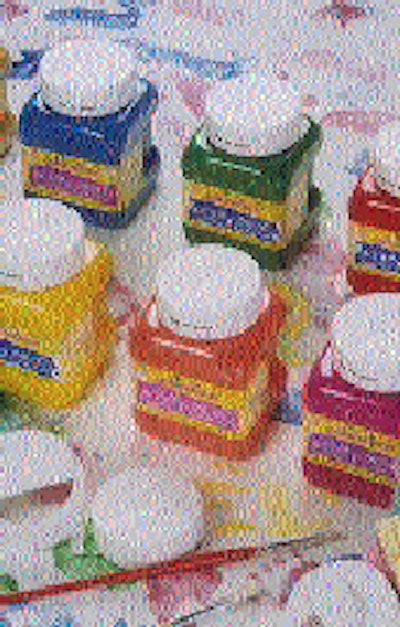 "First quarter sales were up three-fold over the same period a year ago," says the Cleveland firm's owner/operator, Joel Goobich.
He attributes that success to a more functional package than the round polyethylene jar and 89-mm CT closure it replaces. The injection-molded 63-mm Flapper® polypropylene closure from Weatherchem (Twinsburg, OH) is easy to open and close. What's more, paint can be poured cleanly through a triangular opening under one flap or users can dip brushes, sponges or fingers through the half-moon-shaped opening under the opposite flap.
The 16-oz polyethylene terephthalate container from Star Container (Phoenix, AZ) is easy to hold with its side grip panels. The pressure-sensitive paper label, printed flexographically in seven colors by Tape and Label Eng. (St. Petersburg, FL), contributes a bright, cheery design that reinforces the element of fun that any children's product should include.
Colorations' Activity Paints are sold in 50 states and exported to eight foreign countries. Available through school supply catalogues, toy/gift stores, and arts and crafts outlets, the 16-oz containers range in price from $5.00 to $6.50.
Companies in this article