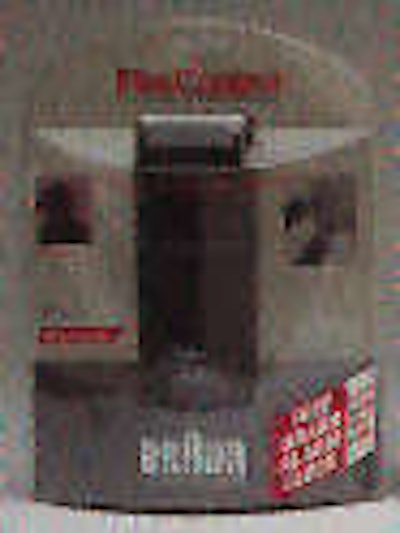 The latest in a series of three U.S. promotional packages for Braun shavers is a clamshell thermoformed of glycol-modified polyethylene terephthalate (PETG). Like its predecessors, the hinged clamshell was designed by Innovative Plastics (Orangeburg, NY), the same company that packs the shavers and accessories and seals the hinged clamshell via radio frequency. It allows Braun, of Lynnfield, MA, to physically add gift items like pens and after-shave lotion products to the package. The promotional packages have been largely sold from pegboards, so a visual, self-selling package was required.
Innovative Plastics forms the pack from 18-mil PETG sheet supplied by Klockner Pentaplast (Gordonsville, VA) for its "high visibility and stopping power," says Dwight Brown, Braun shaver marketing manager. It's sized to permit the use of in-pack premiums like Parker pens, Gillette after shave lotion or even a small alarm clock. "This packaging enables us to differentiate between our various retail accounts, offering them exclusivity, and giving the consumers added value," Brown says. For its part, Braun says the promotions have helped them log double-digit sales growth. Shaver packages without promotions are packaged in Germany.
That package-like the retail environment it's sold in-may be changing. "Mass merchants are getting away from pegboard displays," says Paul Samico, Braun manager of packaging. "Our products are now being sold from locked cabinets and from behind counters. Because of this we're looking at reconfiguring the package into something smaller." He emphasizes that a change of the promotional package is just at the talking stage, but says paperboard and corrugated will be considered.
Companies in this article
Videos from Klöckner Pentaplast Pharma, Health & Protection and Durables