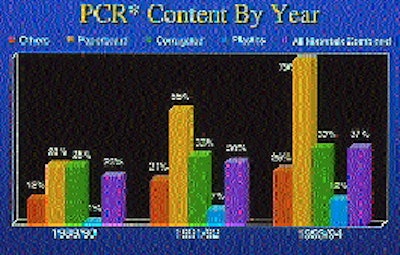 As long as today's "eco-consumer" closely monitors packaging, so will P&G, according to Deborah Anderson at an eye-opener breakfast session during Pack Expo '94. Sponsored by the Council on Packaging in the Environment, the session called "Eye on the Environment" was headlined by Anderson, P&G's vice president-environmental quality worldwide. Her presentation was especially interesting for its environmental data, some shown here. The chart on the left shows how steadily P&G worldwide has reduced the weight of its packaging per case of product shipped compared to the base year amounts of 1989/90. Paperboard was cut significantly. Assigned an index of 100 in the 1989/90 base year, it went to 58 in 1993/94. Condensed product formulas, refill packages, and elimination of non-essential secondary carton packaging for things like deo-dorants and toothpaste tubes were among the things that helped the firm accomplish its reductions, Anderson told her audience. Looking at the weight per case of product shipped for all packaging materials combined, the 1989/90 index of 100 was shaved to 76 in 1993/94. The chart on the right is a snapshot of P&G's ability to incorporate post-consumer materials in its packages. Post-consumer recycled plastics, for instance, went from 1% of plastic packaging used in 1989/90 to 12% in 1993/94. Overall, the chart shows, all post-consumer recycled materials climbed from 23% to 37% of packaging used. Anderson also noted the current shortages of some PCR materials, particularly polyethylene terephthalate and high-density polyethylene. "The supplies of such materials," she said, "must evolve."
Companies in this article
Videos from All Packaging Machinery Corp.