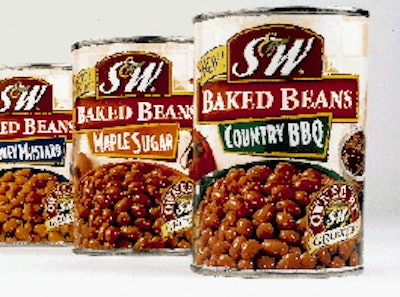 Among the changes that designer Coleman Group West (San Francisco, CA) made was to lighten the background color from a dark blue to a light beige. The design company also changed the colored box indicating the beans' flavor to a diagonal box with a slanted, "retro" typeface and chose brighter colors for the box's background. This flavor box and the box reading "Baked Beans" also switched places to make the can's contents clearer to the consumer.
Steve Swasey, director of public affairs at Modesto, CA-based Tri Valley, says the redesign unifies the line of the five baked bean flavors. "We turned them from five disparate products that happened to be bean products into a family of products with unique flavors," he says.
Fort Dearborn (Fort Worth, TX) offset-prints the 60# coated paper in four colors. The new labels and flavor were scheduled to be on the market April 1, with target markets including Los Angeles, San Diego, San Francisco, Sacramento, Seattle, Spokane and Portland. Retail price is 79¢.
Swasey says the redesign and new flavor will help the company capture a bigger share of what he considers to be a burgeoning market. With a boost from new and improved packaging, he says, "we can take advantage of this high-selling and ultimately high-margin product."
Companies in this article