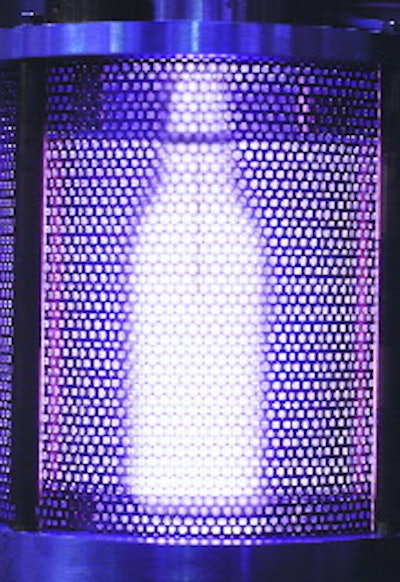 Now comes word of the first commercial application of the Amorphous Carbon Treatment on Internal Surface technology. This month, French brewer Les Brasseurs de Gayant is scheduled to launch its Amadeus white beer in ACTIS-coated 1/2-L bottles injection stretch/blow-molded of polyethylene terephthalate.
Alan Dessy, technical manager at the Douai, France, brewery, confirms Sidel's claims that a monolayer PET bottle with the ACTIS coating delivers 30 times the oxygen barrier and seven times the carbon dioxide barrier compared to an uncoated bottle. "Shelf life in this plastic bottle is one year," says Dessy.
According to Dessy, the 38-g plastic bottle costs slightly more than a two-piece steel can and slightly less than the glass bottle currently used for Amadeus. Brewed of malt and wheat, Amadeus is not a "hoppy" or bitter beer, says Dessy, and it's aimed primarily at young adults. Individual bottles will be sold in supermarkets in the south of France. Italy, the U.K. and the U.S. are also being eyed, says Dessy. "We want to ship this package to markets where people are open to new things," he adds.
Sidel supplies the bottles and coats them on a 20-station rotary system that coats the inside walls with a layer of what Sidel calls "highly hydrogenated amorphous carbon, obtained from a food-safe gas in its plasma state." Coating speed, says Sidel, is 165 bottles/min. (Shown here is a PET beer bottle illuminated as the barrier coating is added.) The firm also claims the coated bottles are 100% recyclable.
The TNO Nutrition and Food Research Institute of Zeist, the Netherlands, has approved Sidel's coating for food contact. Sidel has filed a petition with the FDA for direct food contact.
The clear bottle has the Amadeus name molded into the shoulder above and below a glue-applied paper label. The bottle surface has a stippled texture molded into it as well. From the German firm Bericap, represented in the U.S. by Bericap North America (Burlington, Ontario, Canada), the threaded closure is injection-molded of PP and includes ethylene vinyl alcohol for barrier purposes and a blend of sodium ascorbate and sodium sulfite for oxygen scavenging. Sidel will present a detailed look at ACTIS technology at the Sept. 23-24 Nova-Pack Europe '99 in Neuss, Germany. The conference is sponsored by Schotland Business Research (Skillman, NJ).
Companies in this article