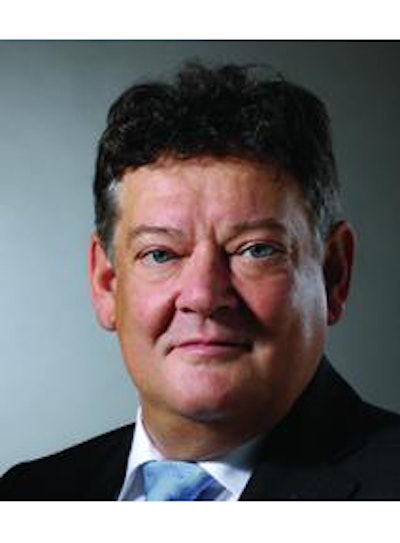 Packaging World:
Is secondary packaging any more important than in the past?
Bernhard Vaihinger:
It's increasingly important at the point-of-sale. This is where sixty-five percent of purchasing decisions are made, and factors like packaging and presentation play an important role in building brand loyalty and offering value for money. Therefore, manufacturers are endeavoring to differentiate their products from the competition at this critical juncture, for example by leveraging new and striking packaging formats. Large multinational manufacturers in particular are making use of secondary packaging as an additional branding surface to give their products extra shelf appeal. Another trend we see is the manufacturer's need to comply with the retailer's requirements on secondary packaging. Retailers are expecting their suppliers to facilitate the restocking of store shelves. As a result, secondary packaging must be stable and at the same time easy to open. This demands creativity and innovation from packaging machine manufacturers.
Retail-ready packaging is a buzzword at the moment. What exactly does it mean, and what is its future?
RRP is secondary packaging ready-designed to facilitate the process of in-store stock replenishment. By tearing off or folding back the lid, retailers do not have to repack or unpack products inside. Retail-ready cases can just be taken from the delivery truck straight to the retail floor with minimum preparation or arrangement of the product. Thus, RRP provides benefits to the total supply chain by optimizing efficiency while at the same time enhancing the consumer shopping experience. It is mainly used by manufacturers supplying retailers with high volumes and lower profit margins. This is particularly true in the U.S. for wholesale club stores, which are projected to continue growing over the next five years despite concerns that these supercenters have reached a point of saturation. A recent study noted that by 2019, revenue is projected to increase at an average annual rate of 2.1 percent to $512 billion. However, as smaller outlets continue consolidating to compete with club stores, the industry's long-term growth may be limited. RRP helps decrease labor costs associated with stocking and restocking store shelves, giving club stores a competitive advantage. PMMI, the Association for Packaging and Processing Technologies, recently released a study noting that large box stores are defining the RRP market, to the point that they have significant influence over their suppliers' investments and product decisions.
What are RRP's advantages?
RRP's design features offer a number of benefits to both manufacturers and their customers. For retailers, it offers enhanced usability, minimizing the time required for shelf restocking. Being made of recyclable materials, frequently corrugated board, RRP is easy and cost-effective to dispose of without compromising sustainability efforts. As more and more retailers expect products to be packaged in RRP, manufacturers benefit from using this format by improving the relationship with retailers. Another benefit is RRP's large surface area, which can be used as a billboard to communicate key brand messages, boosting brand identity.
RRP continues to be a high-growth sector in the packaging market, with market researchers Smithers Pira predicting global growth of 3 percent per annum until 2017. The main drivers behind this are the cost-savings offered by RRP for retailers and its burgeoning use all over the world. The rise in popularity of large supermarkets and the evolution of internal supply chains will sustain the strong performance of RRP and other innovative packaging solutions well into the future.
How do these packaging trends translate into requirements for packaging equipment?
Above all, manufacturers are looking for flexibility from their packaging machinery. Many mid-sized manufacturing companies need to serve different markets and want equipment capable of packaging products in as many different pack styles and sizes as possible. Some are looking for machinery capable of handling up to 100 varied packaging formats to enable them to produce a number of products on the same line. In addition, large supermarkets like Walmart, Tesco, Aldi and Carrefour have begun to ask for their own unique methods of product presentation.
To minimize production costs, manufacturers require robust and reliable machinery that can operate with minimum maintenance requirements. Secondary packaging technology capable of allowing more tolerance for variation in corrugated board quality enables manufacturers to source packaging material from a greater number of suppliers, enhancing supply chain reliability and reducing costs. Packaging equipment that is easily integrated into existing production lines can also reduce costs by minimizing installation downtime. New technology with well-established control systems, for example, can be easily used by machine operators with minimal training required. These systems can also be connected to a centralized Human Machine Interface (HMI) for enhanced control and usability.
Does hygiene enter the picture anywhere?
Advanced hygienic standards for packaging equipment is another demand of manufacturers, not just for their product's primary packaging, but for the secondary packaging as well.
That means they are looking for packaging machines with cable protections, e.g. cables in hoses. Visibility and an open packaging machine design are other aspects of a hygienic standard. Depending on the manufacturer's needs, an option for stainless steel machinery should be available.
Manufacturers need packaging suppliers that can act as consultants and help them find the best secondary packaging solution for their requirements. Suppliers need to support them when developing a new secondary packaging format, from the initial idea to the pack design to the construction and installation of the new packaging machinery. Machinery suppliers also need to support manufacturers with comprehensive after-sales services to ensure the technology continues to perform and achieve maximum efficiency.
How does each region vary in their requirements for secondary packaging?
Manufacturers in North America require their secondary packaging to be more robust than their European counterparts. The longer distances products have to be transported increases the risk to products damaged from knocks or jolts. As a result, advanced RRP formats are not as widespread as they are in Europe. However, they are growing in popularity. For manufacturers looking to lightweight their packaging in particular, suppliers must ensure that even with the use of less material their cases are stable and capable of offering the same level of protection to the product. Collaboration between manufacturers and machinery suppliers has been and is key to developing new pack designs.
On the other side of the Atlantic, Germany and other major economies in Europe are particularly demanding in terms of their secondary packaging requirements. A broad array of secondary packaging styles is in common use by manufacturers across the continent, from low-sided and full-depth trays to wrap-around formats to RRPs with both glued and unglued lids. In addition, manufacturers have to consider stringent legal requirements in countries such as Germany that are affecting packaging machinery design in terms of ergonomics and workplace safety. This includes the use of guards as well as design features that allow easy and ergonomic refills of the machine, such as for carton blanks or hot melt refills.
What future developments in secondary packaging can we expect to see?
In the next few years, we will see the development of a greater variety of packaging solutions to help manufacturers increase throughput speeds and optimize productivity. Technological innovations will pave the way towards more extensive automation of product changeovers, leading to a greater reduction in energy consumption, minimized downtime, and enhanced efficiency.
Consultation among manufacturers, packaging machinery suppliers, and material suppliers will lead to the development of corrugated and other packaging materials that will be more robust while being lighter than ever before, contributing to the reduction of product waste and transport costs for manufacturers. Developments in the ergonomics and usability of packaging machinery will facilitate product set up for line operators, maximizing their control over the production line.
By talking with both manufacturers and material suppliers, packaging machinery suppliers will ensure that their customers' needs are met. Communication is key to guaranteeing manufacturers receive the proper help and advice when they are shopping for the right secondary packaging.