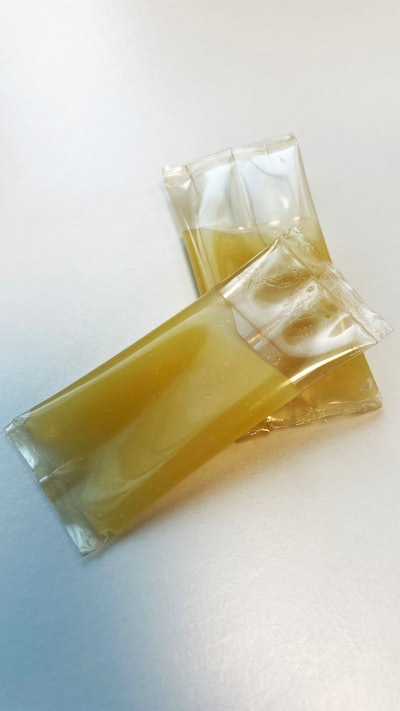 British skincare brand Elemis is developing plastic-free biodegradable sample sachets using waste from its own products' plant-based ingredients. It's doing so in collaboration with Morro, the new commercial, packaging industry supplier wing of UK natural materials development company Xampla.
The project aims to turn leftover plant waste from Elemis product ingredients into biofilm, with the long-term goal of replacing single-use sachets used to package samples of its skincare products. Using materials made from plant feedstocks, the companies will turn Elemis' plant waste into heat sealable films that can replace single use plastics.
"Elemis continues to innovate and investigate new ideas, and partners wherever possible with organizations that can help move the dial on key environmental or social challenges. What we find so exciting about this project with Morro is how utilizing waste from left-over plant material can potentially tackle one of our key packaging dilemmas too," says Oriele Frank, co-founder, chief product and sustainability officer at Elemis "This project further reflects our commitment to finding new opportunities to have a positive impact on planet and people throughout our value chain."
Sachets are a popular format for consumers and brands alike. But there's unmet demand for plastic-free alternatives to traditional multilayer barrier sachets that can't be recycled.
The project has been supported by a grant co-funded by Biotechnology and Biological Sciences Research Council (BBSRC), Engineering & Physical Sciences Research Council (EPSRC), and Innovate UK.
Morro natural materials will be extensively tested to demonstrate its market capabilities when used with Elemis products.
This new collaboration reflects the growing trend for upcycled ingredients and sustainability in the beauty industry, as consumers increasingly seek out products with minimal environmental impact.
"Our collaboration with Elemis unlocks significant potential for the cosmetics industry, where waste materials are transformed into innovative solutions to replace plastic sachets. We are proud to have pioneered our breakthrough material using plant feedstocks and we are looking forward to developing this research further with Elemeis," says Pete Hutton, chairman at Xampla.
The partnership was facilitated by PlasticFree.com, founded by Sian Sutherland, co-founder of A Plastic Planet, who added: "We are proud to have united two forward-looking British companies that, together, can steer us away from plastic packaging with entirely new materials, created from discarded waste. This is the kind of inventive and collaborative approach that is required to create change in the industry and to facilitate the next generation of packaging." PW