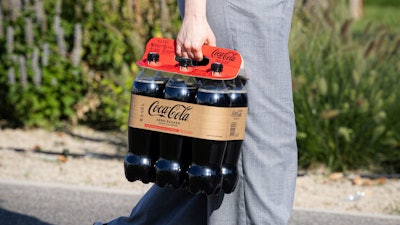 In a collaboration between Coca-Cola HBC Austria, DS Smith, and Krones, a new plastic replacement solution for Coca-Cola, Fanta, Sprite, and Mezzo mix brands in Austria is being delivered to supermarkets in Austria this month.
The DS Smith Lift Up packaging system being used in this application is a 100% recyclable corrugated handle. The companies say the format improves carry functionality for consumers and is designed to contribute with other partners to the kraft paper- and corrugated-based solution that reduces around 200 tons of plastic each year for Coca-Cola HBC Austria.
"This is the first-ever packaging solution of its kind for 1.5-liter multipacks of Coca-Cola, Fanta, and Sprite. It's the result of our entrepreneurial mindset, an absolute belief in collaborating with trusted partners and our focus on reaching net zero emissions by 2040. In 2022, our company was ranked for the sixth time as the world's most sustainable beverage company 2022 by the Dow Jones Sustainability Index, one of the world's leading global sustainability benchmarks. We are honored that our score positioned us top among more than 7,000 companies across 61 industries according to the S&P Global Sustainability Yearbook 2023. 2023 continued with the highest sustainability scores from the MSCI ESG Ratings, for the ninth year running," says Marcel Martin, CCHBC's chief corporate affairs and sustainability officer. "However, we understand the immense size of the task we have in front of us to create a more sustainable business. We'll continue to innovate, collaborate, and invest so we can continue to deliver our drinks in sustainable ways."
Lift Up was designed to be 100% recyclable and to use the least amount of material needed, using DS Smith's unique Circular Design Metrics approach to achieve significant reduction in carbon footprint for the packaging and manufacturing line of products, the company says. Lift Up can be applied to different bottle sizes, and is manufactured in partnership with packaging OEM Krones. The carrier handle has a soft grip that makes products easy to carry while they remain secure within their sustainable packaging. This has been designed for PET bottles for consumption at home.
Adds Stefano Rossi, CEO Packaging Solutions Division, DS Smith, "We are proud to partner on this innovative packaging solution, driving out unnecessary waste and single use plastic. The DS Smith Lift Up concept was designed using DS Smith's Circular Design Metrics approach, so it uses the least amount of material possible, reduces impact on the environment and looks fantastic in stores and supermarkets. Collaboration with our partners Coca-Cola HBC and Krones is key to reducing single use plastics and delivering innovative change at scale. We hold sustainable design at the heart of what we do as a company, and this is a shining example of the opportunity for innovation in packaging to lead the way to a more sustainable future for manufacturers, retailers, and consumers." PW
Companies in this article