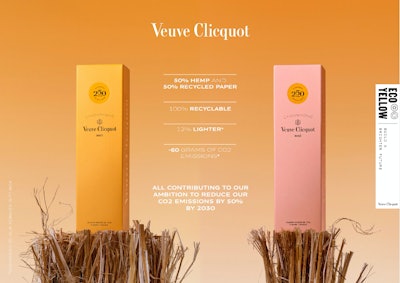 For many brands today, transitioning from plastic to paper packaging has helped them move closer to achieving corporate sustainable packaging goals that center on decreasing their use of plastic and reducing the carbon footprint of their packaging. But what if your packaging is already made from paper? How can you make this renewable and recyclable material even more eco-friendly? For France-based luxury champagne brand Veuve Clicquot, the answer lay in switching to a virgin forest-free gift box, with half of the materials sourced from the local Champagne region.
Veuve Clicquot is no stranger to packaging innovation. In 2011, the brand introduced a gift box made of potato starch, and in 2014, it launched one made from its own post-harvest grape waste. Says Carole Bildé, chief marketing and communications officer of Maison Veuve Clicquot, innovation is embedded in the brand's DNA and has become an even more important part of its packaging strategy in recent years.
---
---
"In 2019, we launched our EcoYellow internal program, leveraging our leadership in innovative packaging to identify and scale-up next-generation solutions," Bildé says.
Following two years of R&D, in summer 2022, Veuve Clicquot replaced its existing 100% virgin fiber paper and paperboard gift box with one made from 50% recycled paper and 50% hemp—a virgin tree-free solution that is also 12% lighter than the previous packaging.
A solution for saving forests
The new Veuve Clicquot EcoYellow champagne gift box is said by the company to not only be a step forward in the brand's work to spur packaging innovation, but is also the latest advance in parent company LVMH Moët Hennessey Louis Vuitton SE's work with Canopy Planet. Vancouver, B.C.-based Canopy is a non-profit organization that partners with global brands and innovators to address the massive and growing forest footprint of paper packaging.
According to Canopy, 3 billion trees, many of which are from the world's oldest, most carbon- and biodiversity-rich forests, are cut down every year to meet the global demand for paper packaging. "If those three billion trees were stacked end to end in a line, they would wrap around the Earth roughly 891 times," says the NGO. "Forests that once made up vibrant and rich ecosystems, brimming with life, become mountains of takeout containers and shipping boxes."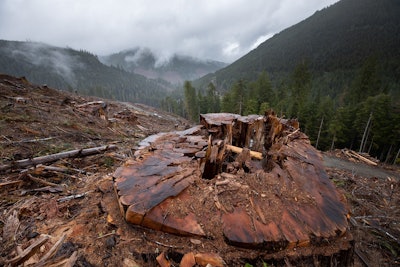 In 2019, Canopy invited industry leaders to "think outside the box," launching the Pack4Good initiative. The solutions-driven program was developed to help the world's largest fashion, food and beverage, and beauty and personal care brands eliminate ancient and endangered forests from their packaging supply chains on the way to building a stable supply of low-carbon and circular alternatives. Pack4Good now has 389 members representing more than $199 billion in annual revenue.
Upon joining Pack4Good, LVMH issued a policy statement reading, "LVMH and its Maisons will support and encourage the development of fiber sources that reduce environmental and social impacts, with a focus on recycled and Next Generation fibers, including agricultural residues for both paper, paper packaging, and fabrics. With solutions already available, we will preference products made from recycled textiles, agricultural residues, and microbial cellulose."
As Canopy defines them, "Next Gen" solutions are low-impact, low-carbon alternatives to forest-based paper packaging that often use waste materials that would have been landfilled or burned. The NGO notes that robust LCAs (Life Cycle Analyses) that include independent third-party reviews and biogenic carbon accounting find that, relative to virgin tree fibers, Next Gen fibers create 95% to 130% less GHG emissions, 88% to 100% less land-use impacts, and a five-times lower impact on biodiversity.
EcoYellow box: in-house design, local supply
The development of the EcoYellow gift box was done in-house by Veuve Clicquot with help from its packaging partners, many of which were local. "The gift box was a collective effort," says Bildé. "Our internal product development team was greatly involved in all R&D phases. However, we decided to aim for an optimization of our supply chain by keeping the stakeholders as local as possible. For example, our key hemp supplier, La Chanvrière, is situated 120 kilometers [approximately 75 miles] away from our Reims production site."
Hemp was chosen for the project due to its significant environmental benefits. Shared Iris Bret, global marketing manager of Packaging Development for Veuve Clicquot, in a video interview with Canopy, "For us, it was really important to have a circular approach aligned with our commitment of being circular, so recycled content was key for that, and hemp actually has even more positive environmental benefits because first of all, it's being sourced close to the Champagne area … so that reduces CO2 emissions. The second one is that it is a CO2 fixer. Hemp absorbs four times more CO2 than a hectare of forests. It's really, for us, the plant of the future in that space.
"On top of that, it also has a lot of additional properties. It regenerates soil, thanks to its very rigid structure, but it's also a biodiversity reservoir, and it grows very, very fast. It's a resource that is being renewed very easily and constantly, and that does not need any water except from the rain, or any pesticides. It does not have any negative impact on the Earth."
---
---
Despite these positives, using hemp for gift box packaging "was not an easy innovation to get right," says Bildé. One of the challenges the Veuve Clicquot team faced when working with hemp was achieving the Clicquot sunburst-yellow tint on the material. Hemp also makes the paper more sensitive to temperature and humidity variations, and the sheets tend to vary in size. This also makes varnishing and embossing more challenging.
"The fact that we had never worked with such a material meant there was no precedent benchmark, giving us a true 'learning by doing,'" says Bildé. "Our gift box innovation is the result of a long journey of R&D and trials that strived to stay true to our motto of providing the finest quality and execution across all our products."
As noted, La Chanvrière, a cooperative located in Saint Lye, France, supplies the hemp. Other suppliers include Italian company Favini, which converts the hemp to paper, Germany-based Gmund, which supplies hemp paper for Veuve Clicquot's prestige cuvées, and DS Smith, which converts the hemp paper and recycled fiber into the champagne gift boxes from its plant in Angoulême, France.
Taking the sustainability approach that less is more, Veuve Clicquot no longer is printing the inside of the gift box, reducing the amount of ink used by half and has eliminated hot stamping on the outside. This reduces the CO2 emissions of the box and ensures its recyclability.
As for Canopy's involvement in the project, Tamara Stark, campaigns director for Canopy Planet, says the NGO provided recommendations on materials, is helping Veuve Clicquot to quantify the environmental benefit of their next-generation fiber choices, and suggested messaging to support the team in communicating about their innovation.
On the back of the gift box, Veuve Clicquot has printed information on the composition of the packaging—50% hemp, 50% recycled paper—and its recyclability. The brand is also in the process of conducting study to determine its compostability.
Sustainability benefits adds up
The use of New Gen materials for the gift box has resulted in a number of sustainability benefits beyond the preservation of ancient and endangered forests. The EcoYellow box is 12% lighter than the previous paperboard packaging, resulting in 60 g fewer CO2 emissions per box. Greenhouse gas emissions resulting from transportation of the hemp and finished packaging are also lowered, given the local sourcing of the material. The box is also 100% recyclable.
The environmental benefits of the EcoYellow box contribute to several of the brand's sustainability goals. One is to use 100% circular or Next Gen materials across all its offerings by the end of 2025; another is to cut its CO2 emissions by 50% by 2030; and another to reduce its packaging by 40% by 2023 versus 2019.
Says Bildé, while Veuve Clicquot is pushing the distribution of bottles without secondary packaging to accomplish the last of the three goals listed, two out of three champagne purchases are made for gifting. To ensure the gift packaging is as sustainable as possible, from 2023 onward, all of its institutional gift boxes will be produced from hemp and recycled paper.
The EcoYellow gift box was launched in August 2022 and was featured in November at the Luxe Pack Monoco conference along with Canopy. PW
Companies in this article