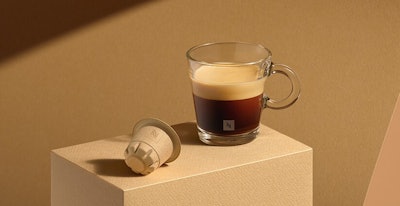 Like most major multinational Consumer Packaged Goods companies, Nestlé has made some fairly significant commitments to reduce the environmental footprint of its packaging, including an ambitious goal to make 100% of its packaging reusable or recyclable by 2025. And, like its peers, Nestlé is employing a number of strategies and technologies in an attempt to reach those goals. One of those is moving to paper-based materials.
In 2020, Nestlé achieved the full "paperization" of the packaging for 419 SKUs of its Smarties candy-coated chocolates, moving from plastic bags and plastic packaging components to 100% renewable, recyclable paper formats. Now, after three years of research and development, the company has unveiled paper packaging for an even more challenging application: coffee capsules. The new paper-based capsule for its Nespresso Original single-cup coffee makers will complement the company's existing recyclable aluminum capsules, providing consumers with a compostable option.
"At Nespresso, we continuously innovate to bring new and exciting experiences to coffee drinkers worldwide. We have always listened to our consumers and innovated to give them the experience they seek," says Julia Lauricella, head of the Nestlé System Technology Center. "We recognize that our consumers want to have a choice. While aluminum has the benefit of being infinitely recyclable and where we offer several ways to collect the capsules for recycling, some consumers may prefer to compost their coffee capsules."
Through an internal lifecycle assessment, Nestlé determined that the environmental impact of coffee packaged in the home-compostable Nespresso paper-based capsule is comparable to that of coffee in the recyclable aluminum capsule. "The paper-based capsule is therefore another sustainable alternative to the current recycled aluminum capsules for those who have access to and prefer to compost, without compromising on the premium coffee experience and high-quality sustainable coffee for which Nespresso is known," says Lauricella.
---
---
The capsules were designed by Huhtamaki, which formed an exclusive partnership with Nespresso in 2021. One of the biggest challenges in using compostable paper packaging for ground coffee is creating a barrier against oxygen to preserve the aroma, taste, and freshness of the grounds. For the Nespresso application in particular, another challenge was being able to mold the paper capsule into a shape that would be compatible with the company's existing brewing systems.
As Lauricella shares, these hurdles were addressed through the use of innovative new technologies. These included a novel (proprietary) compostable biopolymer film, "thinner than a human hair," inside the capsule that acts as a barrier against oxygen and the use of a pulp-molding technology from Huhtamaki "brought to an unseen precision level of microns."
Eighty-two percent of the capsule is made from wood fiber that has been responsibly sourced from European forests. The balance of the capsule, which includes the inner film liner and the lid, is made from a compostable biopolymer material. The capsules have been independently certified by German technical certification company TÜV as home compostable and compostable in food waste collection schemes.
For the launch of the new paper-based capsules, Nespresso's coffee experts also developed new recipes, with the coffee sourced through the Nespresso AAA Sustainable Quality Program. There are four in all, one of which is organic, and all are available only in the paper capsule.
Nespresso will introduce the new coffee varieties in the paper-based capsule in France in June, followed slightly later by its introduction in Switzerland. This initial launch is a pilot that Lauricella says will enable the company to gather vital consumer feedback on both the product and the packaging. Following the pilot, Nespresso says it will expand the launch to other European countries.
Companies in this article