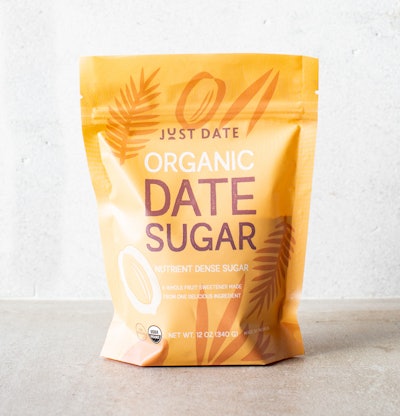 Complementing the upcycled ingredients of its organic date sugar, Just Date is on a mission to move away from all virgin packaging materials, including both plastic and paper. The San Francisco-based company was founded in 2018 to offer a healthier alternative to refined sugars, with their negative health impacts, and natural sugars, which also lead to a blood sugar spike and crash, as well as to artificial sweeteners. Date sugar offers a naturally low glycemic index, a high nutrient density, and a high antioxidant content.
Among its company values, Just Date believes in "wellbeing for you and the world," an ethos that is evident through its product, supply chain, and packaging choices. "Just Date is committed to having as little environmental impact as possible," says Madeline Vidibor, Just Date's director of operations. "We started with using upcycled dates and consolidating our production to minimize freight and transportation. We are also excited to be moving away from virgin plastics and paper in our packaging to use entirely previously recycled materials."
Just Date's first move—the first of many, says Vidibor—to packaging incorporating PCR came with a change to its granulated sugar packaging. Just Date Organic Sugar was originally packaged in a paperboard carton, with the sugar tightly sealed in a plastic bag inside. After conducting a Life-Cycle Analysis in 2022, the company learned that one of the best ways it could reduce the environmental impact of its packaging was through the use of post-consumer recycled materials. As a result, it moved from the carton-and-bag format to a 50% recycled-content pouch from Belmark.
---
---
According to Vidibor, Just Date initially ran into some challenges finding a supplier willing to work at the company's startup scale that also had experience procuring and working with PCR materials. "However, once we started working with Belmark, it was smooth sailing," she shares. "They understood our vision and worked as partners, making suggestions to improve function and quality, while meeting our sustainability goals and tight deadlines."
The resulting 12-oz package was launched in April 2023 and consists of a flexible stand-up pouch with a multilayer construction of high-density polyethylene, 40% of which is recycled content, and PET, made up of 90% rPET. A zipper closure at the top allows for resealability. "We've always wanted the date sugar to be in a resealable bag for consumers to have the best experience," says Vidibor. "The pouch allows the sugar to stay fresh and soft with no clumping as you use it over and over."
Just Date Organic Sugar in the new pouch is available on the company's website, EnjoyJustDate.com, and on Amazon.com, and in retailers that include Thrive Market, Fresh Thyme Farmers Market, and Whole Foods Market, among others
Companies in this article