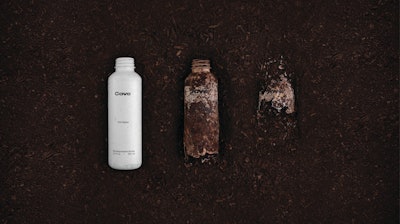 "Erewhon has celebrated the amazing benefits of naturally grown foods and the importance of preserving the earth for more than 50 years and continues to lead the way in conscious consumption today," says Vito Antoci, executive vice president of Erewhon Markets. "When we were introduced to Cove, we were incredibly excited to be part of this innovative and potentially world-changing moment for CPG—the world's first fully biodegradable water bottle is something we are very proud to be launching at Erewhon."
The company says that Cove bottles are plastic-free, biodegradable, renewable, non-toxic, and compostable. They are made with polyhydroxyalkanoate (PHA) a sustainably sourced, naturally occurring biopolymer.
PHA is produced and consumed by microorganisms that occur all over the world, including soil-inhabiting and marine microorganisms. It biodegrades in all natural environments–fresh water, soil, and marine environments–and breaks down without producing any toxic waste. It is broadly biodegradable at a rate comparable to cellulose, the building block of plant life and the primary component of paper, the company says.
"Cove entering retail is a significant milestone for the company and it was important for us to find a mission-aligned retail partner to debut Cove. We've found that in Erewhon and are excited to take a big step forward in our mission to create a sustainable material world," says Alex Totterman, founder and CEO of Cove.
The water bottles, named the Plastic-Free Innovation of The Year in 2019 by Dieline, will be available at Erewhon stores throughout Los Angeles, as well as online at cove.co. Cove says it will announce new retail partners in coming months as they scale up manufacturing at their production facility in Los Angeles. PW
Companies in this article