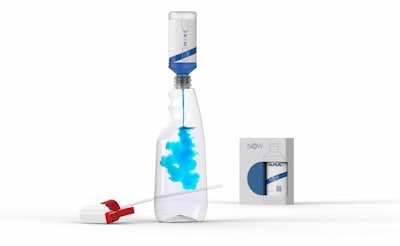 Packaging suppliers have taken notice of brand owners' growing interest in reusable packaging and have begun to offer stock packaging products for refill/reuse systems. What follows are a selection of these new products.
Bottle, Neck Insert for Concentrated Cleaners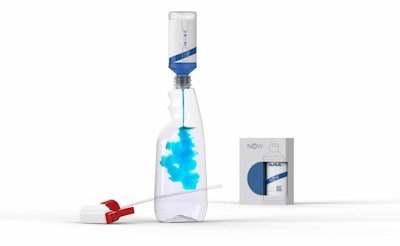 ALPLA Group's NOW solution for concentrated cleaning solutions consists of two elements. The first is a recyclable, 80-mL HDPE bottle that, when completely filled with concentrate, weighs just 10 g. According to Aptar, compared with containers for ready-to-use (RTU) products, the NOW container uses 80%-plus fewer materials. The container's snap lid features a predetermined breaking point, yet is said to seal the bottle safely. The second component is a neck insert for a reusable bottle that allows for an easy press through the predetermined breaking point. To transfer the concentrate, the refill bottle is plugged head first onto the cleaner bottle, allowing the concentrate to flow cleanly into the bottle following an audible click. The neck insert remains in the neck of the reusable bottle, while the spray nozzle can be screwed back on without a problem.
Refillable Wooden Lipstick Pack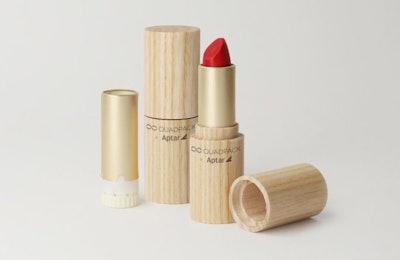 Aptar Beauty + Home and Quadpack have blended their respective expertise in stick mechanisms and wood to create a refillable lipstick package, the Iconic Woodacity. The package uses Aptar's Iconic non-guided lipstick mechanism, which is said to offer a smooth, constant, and precise rotation over time. The mechanism is compatible with most filling lines, without adjustments. Polyoxymethylene (POM)-free, glue-free, and lubricant-free, the mechanism allows for smooth actuation of the bullet. The lipstick casing, from Quadpack, is made from 100%-certified ash wood from sustainably managed forests and features the new and patented Solo Twist system, which features an oval-shaped interior that ensures the cap auto-locks on a quarter turn. The lipstick case is refillable: Consumers simply pull out the used mechanism and snap in the new one. The package also enables users to have various lipstick colors and insert the one they want to use on a given day.
Refill System for Solid-Format Bar Products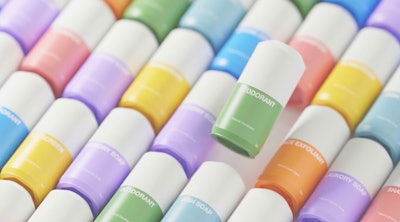 The HEX hex-shaped, reusable, refillable system) for dispensing solid-format refill bars from DCA Design International Ltd. can be tailored to fit a range of personal care or laundry products. Base-loaded, the system provides a continuous conveyance of product. According to DCA, the consumer simply inserts the refill into the base and twists to dispense product. A thread cuts itself into the product, driving it forward or backward, with no additional parts required. The conveying device has a two-part drive mechanism that can be made from mono- or high recycled-content material. The hex-shaped refill also creates an efficient packing density.
Refillable PP Cosmetic Jar
FASTEN, an IBG (Innovative Beauty Group) company has introduced the REfill REuse REpeat refillable cosmetic jar system, designed for cream skincare and makeup products. The package, available in a standard 50-mL cream jar size, is made entirely from recycled polypropylene, and all parts of the package are fully recyclable. The concept comprises a lightweight, open outer jar base combined with an ultra-light, thermoformed refill cup. The refill is inserted inside the base with a single click, and can be removed the same way. The reusable jar is said to save up to 80% on material usage and is 70% lighter when compared with conventional 50-mL jars. The refill units are designed to be stackable and can be produced in different colors to distinguish between creams. The package also uses debossing rather than ink, and elephant grass is used in the paperboard carton that houses the jar.
Recyclable Packaging for Liquid Soap Refills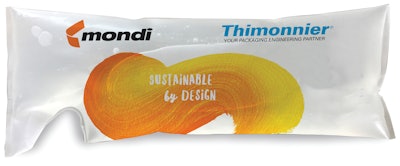 Mondi Group and Thimonnier have launched a new recyclable, mono-material berlingot sachet for liquid soap refills that is said to reduce the use of plastic by more than 75% compared to rigid plastic bottles. The sachet is made from coextruded PE and is designed to replace multilayer, non-recyclable PVC refill containers. According to Mondi, the sachet has an unusual and eye-catching shape that differentiates the packaging, while its durable and leak-proof structure allows the consumer to smell the product inside—particularly useful for the liquid soaps it is designed to protect.
Refillable, Wooden Cosmetics Jar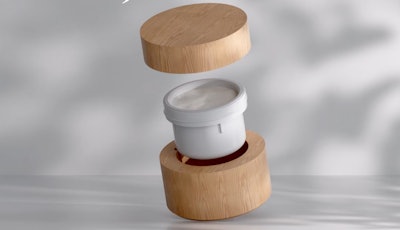 The P-Refill from Pujolasos comprises a wooden jar for cosmetics made from PEFC (Programme for the Endorsement of Forest Certification)- and FSC (Forest Stewardship Council)-certified wood with a removable and recyclable plastic interior. The jar can be customized to any style and can be combined with one of two caps: the Woon or Woodle. The patented, threaded Woon cap is made from 100% PEFC- and FSC-certified wood and is glue-free. The Woodle, also patented, is a recyclable cap made from natural, PEFC- and FSC-certified wood that includes a recyclable inner plastic liner that can be easily separated for recycling.
Refillable, Mono-material Cosmetics Jar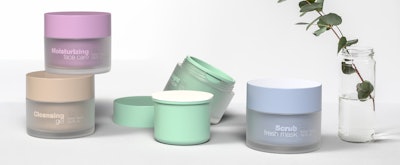 New to Quadpack's Regula family of jars and airless products is the Regula Refill Jar, a refillable, recyclable PET jar that can be combined with a PP inner refill jar. Designed for prestige cosmetic products, the 50-mL outer jar features a thick wall and a premium, glass-like aesthetic. The inner jar is designed for compatibility with most skincare formulas and is made to be easily heat-sealed. Both components can be quickly separated by hand, due to a gap in the outer jar specifically designed to enable easy removal. The refill is just as easy to insert, the company says, with the inner jar making a "click" sound when closed. The jar's double-walled cap is also made from PP, which means all of the package's components are recyclable.
---
Companies in this article