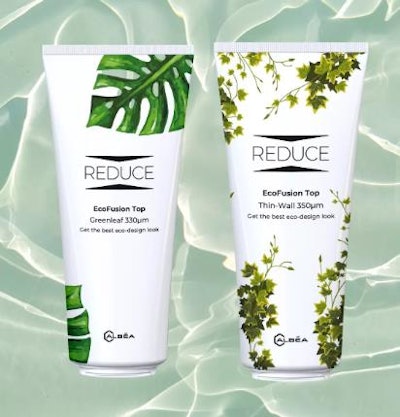 ThePackHub
The packaging industry continues to see a lot of change of materials driven largely by sustainability objectives. Plastic replacement is still top of the agenda for many brands and retailers as they look to switch to solutions that may offer a better environment footprint or at least be better received by anti-plastic focused consumers.
Learn more about ThePackHub's Innovation Zone here.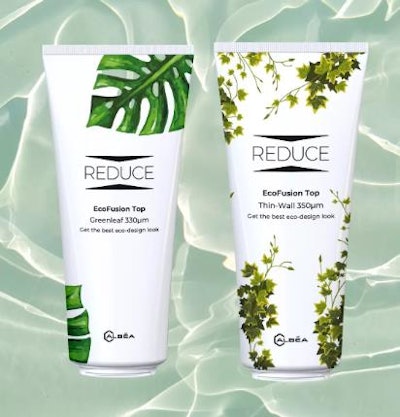 Tube weight reduction achieved through head and cap fusion in one component
French tube manufacturer Albéa has announced what it says is a market first product with the launch of EcoFusion Top. The solution is a fusion of the head and the cap in one component, yielding more than 80% weight reduction when compared to the classic flip-top + head. This results in an overall weight reduction of 55% for the whole tube versus standard tube formats. Being manufactured from HDPE (high density polyethylene) it is also a recyclable-ready solution in rigid packaging recycling streams certified by APR & Recyclass. Albéa say that by designing a single open-and-close system and reducing the tube's components to only two, makes EcoFusion Top a first on the beauty market and a new milestone in its product roadmap. This two-in-one system will be available with various sleeve options such as Greenleaf for laminate tubes and the Thin-Wall technology for extruded tubes.
Air capsule packaging alternative to conventional corrugated shipping cases
Procter & Gamble China has revealed a novel packaging solution called Air Capsule Express packaging. The development was recently shared by their R&D Technology General Manager, and is being touted as an alternative to conventional corrugated board shipping cases for protecting fragile items in the last mile of delivery, and reducing the quantity of packaging. The Air Capsule Express packaging is made from a single material that is inflated with air, is waterproof, recyclable, and weighs 40% less than a normal shipping case. Procter & Gamble China joined the GRPG (Green Recycled Plastics Supply Chain Joint Working Group) to investigate waste separation recycling and plastic recycling enterprises. The Air Capsule Express was developed jointly with the GRPG, who together carried out pilot trials for recycling of the Air Capsule Express as a way of promoting a greener circular economy.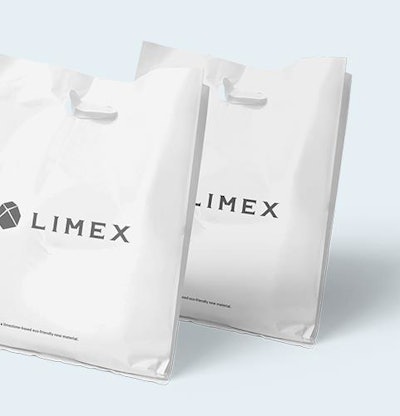 Alternative to plastic and paper for limestone-based initiative
London-based LXD has announced that they are now the official supplier of Limex materials in the UK, a material that it says is a circular and sustainable alternative to plastic and paper. LIMEX is made predominantly from limestone (calcium carbonate), with a small amount of polymeric resin added as a binder. LXD says LIMEX contains 50-80% Limestone and the rest is polymeric resin or a plant-based resin (Bio-Limex), and due to the low levels of fossil-based plastic should not attract the Plastic Packaging Tax. LXD say that limestone extraction creates 1/50 of CO2 emission compared with plastic, while CO2 emissions are 58% of that of plastic when incinerated. LXD says that adding limestone to molding reduces costs associated with petroleum-based resins and improves several physical and chemical properties of finished plastic products.
Learn more about ThePackHub's Innovation Zone here.
Companies in this article