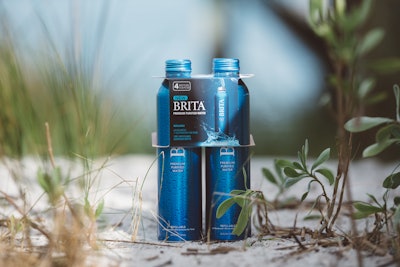 For more than 30 years, Brita has served its customers by providing faucet filtration and filter pitcher systems that improve the taste and quality of tap water and offer a sustainable alternative to single-use plastic bottles. Using a Brita® system to filter water results in four-times fewer greenhouse gas emissions than drinking bottled water and can eliminate the use of 1,800 single-use plastic bottles per year per household.
Given the brand's strong sustainability position, when it considered putting a bottled water product into the retail market, it needed packaging that continued this commitment. By carefully vetting packaging materials and suppliers, it was able to introduce its product in a packaging format that—from container to carrier—uses the latest packaging innovation to provide a sustainable option to single-use plastic water bottles.
---
---
Brita's Premium Purified Water, which launched in a number of large grocery chains nationwide in 2021, is packaged in a durable, refillable, plastic-free aluminum bottle, in an 18- and a 25-oz size, from Trivium Packaging. For its multipacks, Brita uses a unique, fully-recyclable paperboard carrier, the Fishbone from Atlantic Packaging, that uses less than half the material of a paperboard carton.
The culmination of the package was made possible by B Water & Beverages, Inc., a co-manufacturer/packager (CM&P) of water in aluminum bottles and cans located in San Fernando, Calif. B Water worked with Trivium to ensure the manufacture of a plastic-free bottle and introduced Brita to the Fishbone carrier, installing a custom, 600-can/min automatic applicator designed by Serpa Packaging Solutions, a ProMach product brand, to create the plastic-free multipack.
Impact-extruded aluminum facilitates reusability
B Water & Beverages, led by company president Jennifer Brooks, operates a 45,000-sq-ft, state-of-the-art facility equipped with two fully-automated packaging lines, the most recent one installed for Brita. B Water's first line is dedicated to Blue Can 50-Year Shelf Life Emergency Water in 12- and 32-oz aluminum cans. Given B Water's expertise in handling water in aluminum, Brita reached out to the company in 2020 to produce Brita Water. Says Brooks, after much due diligence, Brita selected B Water as the exclusive manufacturer of its new retail product.
According to Brooks, Brita had researched several packaging options before deciding upon aluminum. The first was glass. "But glass has its issues," says Brooks. Among them, its heavy weight and shatter-ability. Another material it looked at was the multilayer carton. "But, that's not sustainable either because for one, it has a plastic cap, which is not good for marine life, and two, it's lined with aluminum, which makes it quite complicated to recycle," she says.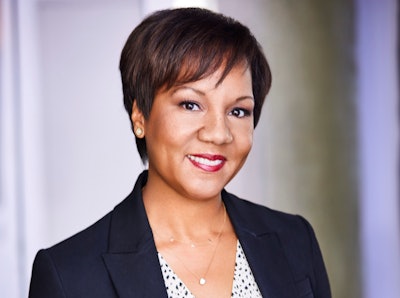 "Aluminum, then, became the material of choice due to its light weight, durability, and infinite recyclability," Brooks explains. From there, B Water worked with supplier Trivium to develop a refillable aluminum container, which was a primary goal of Brita's. Collectively, the team decided on an impact-extruded bottle.
Explains Trivium Packaging VP – Head of Global Beverage Ryan Noward, two factors make impact-extruded bottles preferred for refill applications. "First, bottles produced from this technology provide the sturdiness that allows them to withstand multiple uses," he says. "Second, in the impact-extrusion process, we have the ability to apply liners in a very specific manner, which provides the best internal coverage for the bottle."
Brooks describes the bottle as a cross between a soda can and a stainless-steel bottle. "So, where stainless steel is very hard—you really can't crush it with your hands—and a soda can is easily crushed, the impact-extruded can is in-between in terms of thickness and durability."
Testing the bottle over a three-week period, B Water found it could be uncapped, emptied, refilled, and recapped without any degradation to the bottle liner, the bottle, or the cap. "So it's definitely refillable, and that's really the key to help with saving the planet," says Brooks. "It's about reducing or eliminating single-use containers of any kind, but especially plastic."
B Water has found that consumers often drink the water and then refill the bottle throughout the day, on-the-go, to meet their recommended daily intake of water.
Supplier expertise enables plastic-free bottle
B Water wanted a 100% aluminum bottle so that it would be curbside-recyclable. In selecting a bottle supplier, Brooks says that one of the things that attracted B Water to Trivium was their willingness to work with the CM&P to drive innovation. Traditionally, with larger aluminum bottles such as the 25-oz size, a plastic outsert is needed on the neck of the bottle to receive the aluminum closure.
Trivium developed, and then made a significant investment in, the capability to produce metal threads directly onto the bottle. According to Noward, it's less about the equipment and more about the technical know-how. "While there was new equipment involved, the bulk of the effort came in the form of engineering and development work," he says. "Tom Chupak, Keith Mitchell, Nicole Gailey, and the broader R&D and Innovation team in Youngstown [Ohio] worked tirelessly to develop this capability.
"Forming metal threads on a bottle is a complicated, difficult process that Trivium's years of experience in impact extrusion allowed us to execute. Once the technology was developed, Plant Manager Michael Wood and the operations team dialed in on how to produce the bottles at scale."
---
---
Says Brooks, "We were the first ones to have fully 100% aluminum bottles with no plastic outsert and closures form-threaded directly onto the neck of the bottle. So we were excited about that, and we're thrilled about our partnership with Trivium as well."
Trivium also prints the bottles in-line as part of the production process. Says Noward, the company can print aluminum bottles in up to nine colors "with photorealistic quality." The Brita bottle is a beautiful example of this. The slim, column-shaped container has a deep ocean-blue background, with a darker blue pattern throughout that makes the bottle appear as if it's covered in water droplets. The copy is white, with the Brita logo running vertically along the front panel. On the back are printed icons, accompanied by copy that reads, "Refillable Bottle," "Superior 10-Step Filtration," "Every Bottle Gives Back" (proceeds from every purchase are used to support environmental solutions), and "Infinitely Recyclable." The all-aluminum cap, supplied by G3 Enterprises, is the same blue as the bottle.
Paperboard carrier completes sustainable proposition
After investing the time and resources to create a durable, refillable bottle that was also fully curbside recyclable, Brita and B Water were loath to offer consumers multipacks held together by plastic ring carriers. Some years before the Brita project, B Water was introduced to Atlantic's Fishbone paperboard can carrier when looking for an option for a six-pack of cans, but the project never came to fruition.
The Fishbone remained top-of-mind, however. "When we started working with Brita and developing out our SKUs, we realized we also wanted to do a multipack to replace 24- and 36-pack plastic water bottles. And we thought that if we did a four-pack of 25-oz bottles, and it's refillable, or a six-pack of the 18-ounce, and it's refillable, that would replace a 36-pack," shares Brooks. "So right away, we knew to go to Atlantic. In fact, I'll be honest, Atlantic is the only company we went to for the multipacks, because we knew of their capabilities before we knew the team. James Skyler, B Water's CEO, was well aware of it [the Fishbone] and really believed in it. We just never pulled the trigger on our smaller brand because there wasn't that need. But with Brita, there certainly was."
The supplier of the Fishbone is Wilmington, N.C.-based Atlantic Packaging, the largest privately held packaging company in North America. Seventy percent of its revenues are in packaging equipment, materials, and technical service; 30% comes from value-added, paper-based products. Its president, Wes Carter, is the third generation to guide the company. As Carter explains, Atlantic Packaging got its name from the company's close connection to the Atlantic Ocean and its guiding commitment to help consumer packaged goods companies transition to a more sustainable future through optimized packaging.
---
---
Says Carter, "I grew up on the Atlantic Ocean, and so did my father. I grew up as a surfer and an offshore fisherman. Atlantic also has a very big presence in the beverage industry. It's one of our top verticals, and we have done a tremendous amount of work in packaging optimization for beverage customers. That six-pack ring—and I've talked about this pretty publicly—is sort of the poster child for problematic packaging. It has been choking turtles and sea life since I was a kid."
So when inventors from California brought the idea of the paperboard can carrier to Atlantic in 2018, it was eager to pursue the concept. That meant using its skills to both develop and manufacture the paperboard structure, as well as engineer, install, and service the equipment to apply the carrier. "We felt that, based on our presence in the beverage industry, the resources we have within Atlantic, and our commitment to sustainability, we might be able to facilitate really significant change," Carter shares.
The first step was to select a paperboard with the optimal strength and tear-resistance for the application. That's according to Allison Scales, VP - Printing & Graphics Division at Atlantic, who shares that the company opted for a 29-pt board from Sweden-based BillerudKorsnäs, a supplier that she says operates "the most sustainable paper mill in the world." The board, Scales adds, is caliper-to-caliper 20% stronger in tear-resistance than domestic board. "Normally you can down-caliper and keep strength, and then you are saving tons of material," she explains. "But in this case, we needed it to be as strong as possible, so we went with 29-point, which is the thickest board BillerudKorsnäs offers."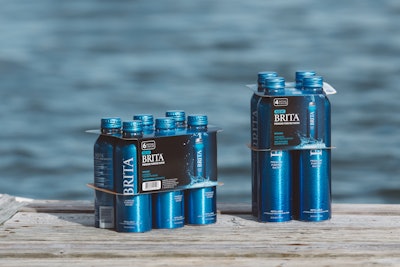 Carter adds that despite the fact that the board is shipped from Sweden, because of BillerudKorsnäs's sustainability practices, it still results in two-thirds fewer carbon emissions than domestically produced boards.
In the early days of the project, Scales relates that the greatest challenge was finding a way to impart moisture-resistance to the board without the use of a plastic coating. There do exist paperboard carriers on the market from other suppliers; at least one of them laminates the board with plastic. As Carter shares, that's good for moisture-resistance, but not for recycling. To allow for Fishbone recyclability, Atlantic honed in on a 100% repulpable, water-based barrier coating. The coating has traditionally been used as a replacement for polyethylene or wax coatings to protect corrugated shippers for produce and is typically pre-applied to the liner. Atlantic is the first company to bring the coating in-house and apply on-press.
The Fishbone can carrier was initially designed in 11 configurations to accommodate a range of can sizes while ensuring the multipack could match the footprint of existing corrugated trays. The basic construction comprises a single piece of coated paperboard, die-cut with round, scalloped openings, or teeth, as Atlantic refers to them, that hold the neck of the can or bottle. Precisely placed finger holes allow the consumer to easily pick up and carry the multipack, without the holes tearing.
---
---
One variation on the standard Fishbone is the patented C-Clip, which was designed in collaboration with B Water. While this version uses more material, it also offers greater shelf impact and adds increased rigidity and strength for larger containers, such as Brita's 18- and 25-oz bottles. The carrier mimics a "C" shape, where the Fishbone carrier has a side panel that runs along the side of the multipack. Glued to the bottom of the side panel is a bottom "shelf," which is die-cut with round openings that hold the bottles. Atlantic has the ability to customize the length of the side panel to the customer's specifications.
B Water is using the C-Clip for a six-pack of 18-oz cans and a four-pack of 25-oz cans. According to Brooks, the C-Clip was chosen for its ability to protect the bottles from damage. "With these bottles, if a lot of pressure is applied during transit, they can end up being dented," she says. "As you can imagine, having high retail shrinkage, where they're having to throw away product because the packaging is so dented, is not good for business. It's bad for our margins and would hurt our reputation as a supplier. Protecting our product is paramount, and the Fishbone achieves that."
Brita's multipack carriers are offset-printed by Atlantic in four-color process plus one Pantone color, with eye-catching graphics that mirror the branding on the bottles. For single bottles shipped to retail for individual sale, B Water uses plain brown Fishbone carriers. In-store, store clerks just remove the bottles from the carrier for placement on the shelf.
Custom carrier requires custom applicator
After Atlantic designed the Fishbone structure, it then needed to engineer equipment that could efficiently apply the carrier to cans or bottles at production speeds. Evaluating the strengths of the OEM partners it represents, Atlantic narrowed in on Serpa, a machinery company that specializes in cartoning solutions. Says Carter, "The big differentiator with Serpa from a lot of the other folks we potentially could have looked at is that they're a true engineering company; that's the way they go at it. And we knew there wasn't an off-the-shelf solution, and it's not something where you could even take an existing piece of machinery and modify it."
Aaron Metzler, National Sales and Applications Manager for Serpa, agrees. "When they approached us in December 2019, they said they had a paper-sleeve design, and we said, 'Sure, we can apply sleeves.' But once the samples came in, we saw that it was a little different than what we were expecting."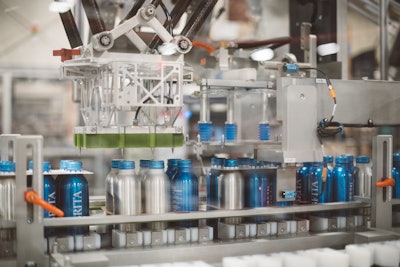 With its engineers freed up somewhat as a result of the pandemic, Serpa was able to produce a prototype machine with robotic picking and placing by May 2020. The biggest hurdle, Metzler shares, was designing a solution that would ensure that the Fishbone stayed flat during application, even as pressure is applied to snap the teeth around the top of the containers. He explains, "If you're trying to push down on the board, and you don't have any containment, it will curl on the edges. Atlantic didn't want that look. They wanted it to be nice and flat, so that when the consumer looks down at it, they can see all the artwork."
Serpa solved this issue by engineering specialized end-of-arm tooling for the delta pick-and-place robots that apply the Fishbone. "It's a combination of technologies that we've developed over the years," Metzler shares. "For the early Fishbone, we were able to create an EOAT that could support the bottom of the panel while it's being applied onto the bottles so that we could apply the amount of pressure needed to snap it onto the cans."
Serpa's strategy has been to develop modular applicator systems, adding robots as needed for higher-speed applications. It offers eight fully automatic models, including intermittent- and continuous-motion styles, that can apply the carrier at speeds from 150 to 1,800 cans/min. Atlantic manufactures the smaller, manual and semi-automatic models, suited for companies looking for speeds from 24 to 40 cans/min.
B Water's impressive packaging line investment
In late November 2021, B Water installed the BCF100-S continuous-motion automatic Fishbone applicator, specifically engineered for their use by Serpa. While the machine can operate at speeds to 600 cans/min, B Water is working up to this speed, as order volumes increase.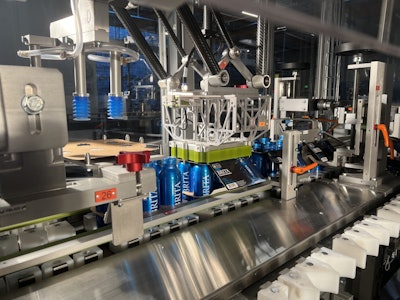 The application process begins when filled, sealed bottles enter the infeed of the machine in single file. From there, they are conveyed through a set of diverging timing screws followed by grouping timing screws that align them in either four- or six-pack spacing. The first two Serpa delta robots handle the bottom panel, with the first picking the paperboard piece from a magazine and staging it, and the second picking the panel from there and placing it over the top of the bottles, positioning it the required distance from the container top. Next, the same process is repeated by two delta robots, with the Fishbone top with attached panel pushed down on top of the bottles. In the next step, the panel is folded down along the side of the multipack and glued to the bottom Fishbone.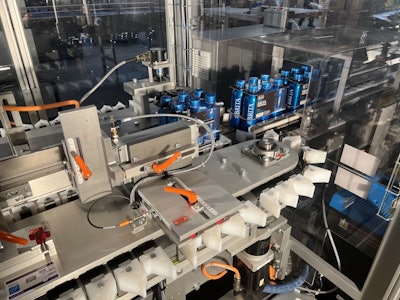 Says Kevin Gillespie, Production Manager for B Water, one of B Water's considerations was the machine's ability to easily change over from one multipack and can size to another. Serpa designed the equipment so that changeover from the 18-oz six-pack to the 25-oz four-pack is tool-less, only requiring changes in two timing screws, 12 magazine parts, and some height adjustments of rails and the glue system. According to Gillespie, the entire process can be done in less than an hour. "Serpa did a fantastic job of providing changeover sheets with instructions, and the parts are very easy to change out," he says.
The Serpa BCF100-S was the final piece of equipment added to B Water's new filling line. Other machines on the line, also selected for their changeover flexibility, include a Magic Bus high-level automatic depalletizer from Ska Fabricating, an ionized air rinser from Carleton Helical, a Zalkin capper, a high-speed air dryer from Republic Manufacturing, a Markem-Imaje date coder, and an automatic palletizer from TopTier. Modular Conveyor Systems (MCE) provided all conveying equipment.
Consumers appreciate Brita's efforts
Brita Premium Purified Water was introduced in 2021 and is available nationwide at retailers that include Albertsons, Safeway, Harris Teeter, Giant Eagle, and Tom Thumb, among many others, and is also sold on Amazon.com and Walmart.com. The product carries a suggested retail price of $1.99 per 18-oz bottle, $2.99 for a 25-oz size, and $10.99 each for the four- and six-pack.
Shares Brooks, since the product's launch, it has received tremendous feedback from both retailers and consumers. From the retailer perspective, the fact that they accept the items means they're impressed, she says. From the consumer perspective, reviews on Amazon show they are happy with the taste (one consumer even titled their review, "Dear God this is good"), and the refillability of the container. Another consumer wrote that they use their Brita pitcher to filter the water they pour into the refillable bottle—a win/win for a loyal Brita user.
For the other parties involved in this packaging project of many firsts, the new format with paperboard carrier is one that has furthered their drive to create more sustainable options for single-use beverage packaging. Says Carter, "We're really proud of this initiative, working with B Water and bringing this product to market with such a recognizable brand. Engaging with B Water for the Fishbone program has been the catalyst for our organization and its passion for sustainability. It has changed the energy of our organization in so many ways."
Companies in this article