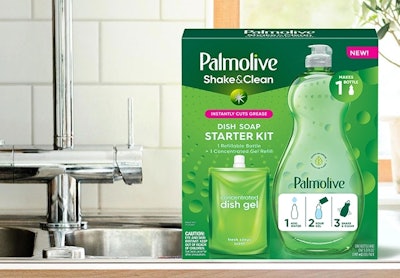 No longer just the realm of entrepreneurial startups, refillable/reusable packaging for household cleaning products has hit the mainstream. In March, Colgate-Palmolive announced the launch of its new Palmolive Shake & Clean Dish Soap product, which features a packaging system made up of a reusable bottle paired with a flexible pouch refill. Together, the bottle and refill are said to result in 75% less plastic waste versus a new 20-oz bottle of Palmolive dish soap. The product is being sold exclusively at Walmart in 2,000 stores nationwide.
Says Joana Baquero, Palmolive marketing director for dish, "Every act of care make a difference. Sustainability is a core value that we embrace, and we're excited to further deliver on our commitment to sustainability by teaming up with Walmart on this innovation with a breakthrough new technology."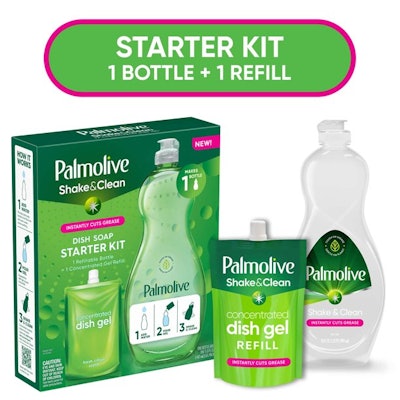 The new technology comes in the form of a 4X-concentrated dish soap gel. The concentrate is packaged in a flexible film pouch that holds 5 oz of the gel, in either a Floral Breeze or Fresh Citrus scent. The product formulation also boasts better-for-the planet attributes. According to Palmolive, the "family-friendly formula" is free from parabens and phosphates, and uses 100% biodegradable cleaning ingredients.
The reusable bottle, in the iconic Palmolive dish-soap bottle shape, is made from 100% recycled, clear PET. Two years ago, the company began the transition to 100% rPET, moving all of its ultra dish-soap bottles to recycled material for a reduction in plastic of 5,200 tons per year.
---
---
"We continue this journey with Palmolive Shake & Clean in tandem with Walmart where we can now encourage people to reuse their bottles and lessen their carbon footprint," says Baquero.
Product instructions include three easy steps, advises Palmolive: Fill the empty dish soap bottle with water to a line indicated on the container; add the gel dish soap concentrate; and shake the bottle from side-to-side to activate the formula and produce a 20-oz bottle of dish soap.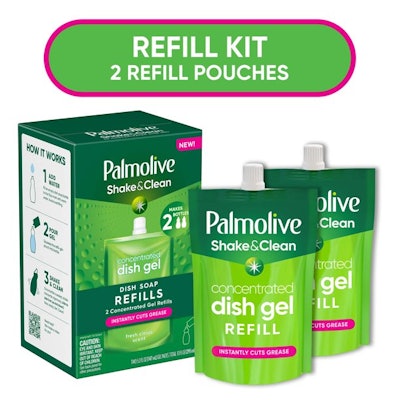 The Palmolive Shake & Clean Dish Soap is sold as a starter kit, with one bottle and one refill, in a recyclable paperboard carton, for $2.49. Two-pack refill kits, also packaged in a paperboard carton, are sold for $4.78. The products are available in-store and on Walmart.com.
Says Corey Bender, merchandising vice president, household essentials, for Walmart U.S., "Walmart has long-standing commitments in sustainability, including selling products that use less resources and generate less waste. We are thrilled to collaborate with Colgate-Palmolive to bring Palmolive Shake & Clean Dish Soap to our customers, an innovative product that provides very effective cleaning while reducing plastic waste."
---
---