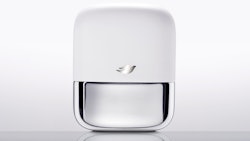 Anne Marie Mohan reported in January 2021 that the global health and beauty brand launched new deodorant packaging that is circular by design, with a reusable stainless-steel case that can be refilled with deodorant sticks.
Reusable packaging has come a long way—in strategy, sophistication, and sustainability. Launched in January by Unilever, the new Dove refillable deodorant system exemplifies this new approach, comprising a sleek, stainless-steel outer case guaranteed to last a lifetime, paired with refills in recycled-content, recyclable packaging. The innovation is just one of 100 projects Dove is working on across the globe to meet its goal to ensure all its packaging is plastic-free, is made from 100% post-consumer recycled plastics, or is reusable/refillable. It also represents Unilever's first refill launch on a mass scale.
The system was engineered by Unilever in collaboration with A Plastic Planet—a grassroots organization founded to "turn off the plastic tap"—and Dutch design consultancy VanBerlo, which began the project in 2018. The refillable Dove deodorant package has a design similar to that of the minim™ reusable package prototype, developed for Unilever's Dove, AXE, and Rexona brands as part of the Loop reusable shopping platform, but it has been "optimized for personal use," says Augusto Garzon, Dove Global Vice President of Deodorants, Unilever.