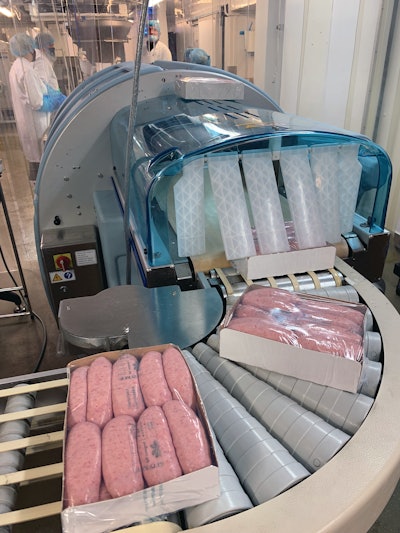 Charles Baughan is the third-generation owner of Westaway Sausages Ltd. in England's southwest county of Devon. His sausages are made the same day the meat arrives at his facility and have a refrigerated shelf life of about 11 days. For the past four years or so, Baughan has been on a mission to find packaging with a better sustainability profile than the thermoformed tray and materials traditionally used for cling films such as PVC or LDPE. He explains the urgency this way.
"There are over 400 million packs of meat products sold in the U.K. every year packed in plastic trays wrapped in films that cannot be easily recycled. I hope this ground-breaking innovation by our small team will challenge the whole sector. Here in South West England we live in a wonderful part of the world, and we know that packaging does not always end up where it should. We feel strongly that doing nothing is not an option."
Baughan's search for more sustainable packaging came to fruition in two stages. In 2017 there was a switch out of thermoformed plastic trays in favor of paperboard, specifically a 745-micron natural coated kraft, wrapped in traditional cling film. Then, in April of 2020, Westaway replaced the cling film with a three-layer blown coextrusion from Fabbri Group called Nature Fresh that is certified as compostable according to the UNI EN 13432 Standard in both home and industrial settings. "We are the first ones in the world using Nature Fresh for meat products," notes Baughan. He also proudly adds that the package was named Innovation of the Year in the U.K. Packaging Awards 2020 sponsored by Packaging News magazine.
The key to Nature Fresh is an aliphatic-aromatic copolyester called PBAT, or poly[(butyleneadipate)-co-(butylene terephthalate)]. It's helpful to review just how PBAT came onto the scene, and who better to conduct such a review than Fabbri Group's Laura Pirondini, PhD, R&D Scientist.
"In the history of biodegradable plastics," says Pirondini, "aliphatic polyesters have played a key role since the 1970s. However, most of the aliphatic polyesters used commercially for biodegradable materials exhibit serious disadvantages, beginning with their cost. In addition, material properties are often limited, which excludes these materials from many applications. On the other hand, aromatic polyesters such as polyethylene terephthalate or PET are widely and successfully used for a variety of conventional applications, largely because their performance properties are excellent and they are not cost-prohibitive. But these aromatic polyesters are commonly regarded as biologically inert and thus non-biodegradable. This led to the development in the 1990s of aliphatic-aromatic copolyesters, which combine the excellent material properties of aromatic polyesters with the potential biodegradability of aliphatic polyesters. The best known of these aliphatic-aromatic copolyesters is BASF's ecoflex®, which was commercialized in the late 1990s. The standard grade ecoflex® F is produced from the readily available fossil monomers adipic acid, terephthalic acid, and 1,4-butanediol. Its generic name is poly[(butyleneadipate)-co-(butylene terephthalate)], or PBAT."
Two PBAT grades used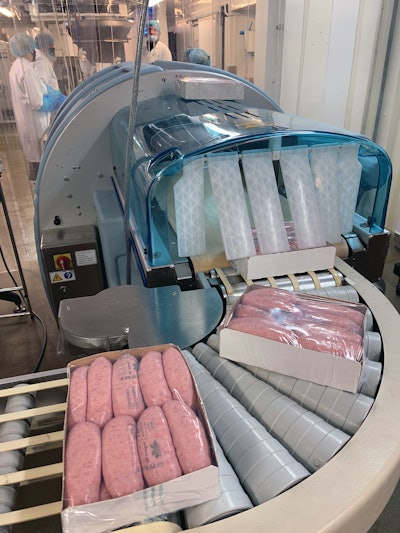 Two grades of PBAT, both from BASF, are used by Fabbri Group in the 16-micron three-layer blown coextrusion made for Westaway. One is ecoflex®, a biodegradable aliphatic-aromatic copolyester based on the monomers noted above. The other is ecovio®, a biodegradable compound tailor-made for cling film applications. It's based on ecoflex®, but with the addition of additives to provide the cling and antifog properties. Fabbri Group is the only producer of cling film that's suitable for automatic or manual packaging based on these two BASF resins.
The combination of the two PBAT resins guarantees very good optical properties (transparency and gloss) as well as mechanical properties (tensile strength and puncture resistance). The combination also brings high water vapor permeability, enabling the fresh sausages inside to breathe, and good printability with compostable inks. Needless to say, all food-contact requirements are met.
"The outcome is a cling film that fits neatly into the overall composting process, effectively contributing to the Circular Economy and providing a resulting compost that is suitable for plant growth," says Michele Govoni, Country Manager for U.K. and Ireland at Fabbri Group-Automac U.K. "Also, its machinability, extensibility, and toughness make it suitable for both automated cling film wrapping machines or application by hand. And thanks to Nature Fresh's transparency and gloss, shelf impact is optimized, too."
Certainly worth noting is that as flexible film converters go, Fabbri Group may be in a class of its own for one simple reason. They also build the cling film machinery—in this case a high-productivity Automac Industrial machine, part of the innovative "Fabbri Hybrid" range—on which Westaway wraps its sausage-filled paperboard trays. (Fabbri says its Hybrid range accepts either traditional cling films or the newer compostable films, which eases the transition to compostable films without needing specialized packaging equipment.) It's partly because Fabbri Group is also a machine builder that they were able to produce a compostable cling film suitable for use on automated equipment in the first place. After all, if your technical experts are collaborating on developing not only a breakthrough cling film but also the machine on which it has to run, you have a considerable advantage. Still, bringing Nature Fresh to the market was no walk in the park.
Go here for highlights of a panel discussion at Natural Products Expo East on reimagining packaging and sustainable options.
"We had to work hard on the Nature Fresh coextrusion process and to optimize the especially challenging winding process," says Pirondini. She adds that the supplier of Fabbri Group's coextrusion line is the Italian worldwide leader Costruzioni Meccaniche Luigi Bandera. "It was a project that started in 2015," continues Pirondini, "and its worldwide debut in a commercial application didn't take place until 2020. It was five years of intense and collaborative R&D and testing conducted jointly by BASF and us. One particular challenge had to do with cling properties. PBAT is designed to be a strong and flexible material with mechanical properties similar to LDPE, and that's why ecovio® and ecoflex® can be melt-processed on standard polyolefin equipment. But due to the cling properties of ecovio®, the winding section is not so easy to manage."
Largely packed by hand
Baughan says that because some 40 different sausages are produced and packaged at Westaway, automating the loading of trays would be difficult. So operators currently erect the paperboard trays by hand and load them right at the infeed of the Fabbri Group wrapping machine. Common formats include a six-count wrapped tray in a windowed paperboard sleeve and a 16-count wrapped tray in a partial paperboard sleeve. One improvement being looked at, says Baughan, is a tray erector that could perhaps be positioned right in line with the wrapper, since the wrapper is designed to be easily integrated in most packaging lines.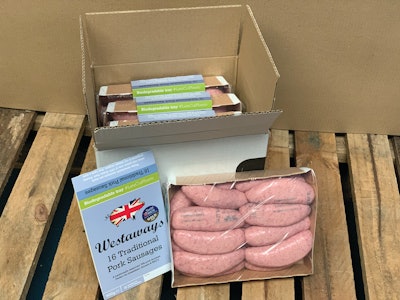 While Westaway's use of Nature Fresh is relatively new, the firm has been a user of flexible film packaging from Fabbri Group for some time. "When I heard what they were doing with PBAT, I was eager to explore it," says Baughan. "We produce half a million sausages a day, which are sold through both foodservice and retail channels. As we started looking at alternatives to PVC stretch film, we considered polyethylene because at least it's something that can be recycled. But shelf life is not as good as with PVC, and if PE is not collected and sorted properly, it just doesn't make its way into the recycle stream."
When asked about the cost of Nature Fresh, Baughan acknowledges that it comes at a slight upcharge due to the higher cost of the raw materials. But the paperboard tray now used costs less than the thermoformed trays used in the past. Naturally, the cost of packaging materials is something Baughan keeps an eye on. But also an important element is consumer response, and he says sales are up about 30% since Nature Fresh started reaching store shelves.
As for messaging aimed at consumers, the paperboard carton carries this copy in a prominent top-of-carton spot: "100% Recyclable or Compostable Packaging. Certified EN13432 Compostable film #LetsCutPlastic." Nature Fresh can also be printed with compostable inks, so Baughan recently asked Fabbri Group to add similar messaging right on the cling film, and packages now reaching consumers have this messaging printed on the film. This helps consumers to handle the film in the proper way after usage and can facilitate the process of automatic waste sorting too.
Two last notes on Nature Fresh. For the most part it's a cling film for fresh refrigerated products, so it needs no gas barrier properties because it's not meant to be used for MAP or vacuum-skin packages that have extended shelf life. But Pirondini says that Fabbri Group is finalizing a new compostable solution for this extended-shelf-life segment of the market. Second, when Westaway's sausages are shipped to distant markets, the packs are frozen, and the cling film withstands these temperatures without becoming brittle.
And Westaway's Charles Baughan? He remains a man on a mission. But where once his mission was to find a compostable cling film, his new goal is to broaden the use of that film. "Large corporations and supermarket chains have had the same opportunity to do something about the problem," he points out. "Why has it taken our relatively small Devon company to lead the way in the U.K. in developing what we hope will become an industry standard?"

Companies in this article