The COVID-19 pandemic has been one of the biggest global disrupters of a generation. In addition to its devastating human impact, the outbreak also saw businesses fold, economies shrink, and the world forced into waves of lockdowns. The petrochemical industry did not escape the impact of the virus; oil prices dropped and rebounded, consumer demand patterns changed, and global supply chains were thrown into disarray.
However, despite the chaos, some pre-COVID topics are coming back to the fore in the petrochemical space, one of which is sustainability. Side-lined at the beginning of the outbreak as demand for single-use plastics for hygiene reasons grew and as some converters chose lower-priced, fossil fuel-derived virgin polymers over higher-priced and less-available recycled materials, sustainability targets are once again getting serious attention from the industry.
Within this sector, ocean-bound plastic (OBP)—defined as plastic waste within 60 km (37 miles) of a coastline or waterway that is at risk of entering the ocean—is gaining small but significant traction within the packaging sector, particularly from those in the rPET market. Now, major European retailers are investing in the sector. Last year, German discount retail chain Lidl won the U.K. Retail Industry Awards' Sustainable Initiative of the Year 2020 for its use of Bantam International's Prevented Ocean Plastic (POP) across 13 of its fresh fish products in the U.K. Bantam is one of a growing number of companies supplying OBP globally.
Rising tide of interest
The appetite for OBP is growing. By incorporating OBP into products and packaging, companies are not only helping to support the communities of informal collectors and sorters that are most impacted by plastic waste, but they are also sourcing quality material at comparable prices to European rPET flake.
Retailers such as Sainsbury's, as well as firms like Childs Farm, a U.K.-based cosmetics company specializing in natural skincare products for children, are now incorporating Bantam's POP in their packaging.
---
---
So why ocean-bound plastic? Says Childs Farm Sustainability Officer Louise Norman, the company came across OBP in a drive to increase its use of recycled content. The company had reached 30% recycled content in its high-density polyethylene bottles three years ago, but wanted to move to 100% recycled content because its feels strongly that it's the right thing to do. So it looked at rPET as an alternative.
"We couldn't find the HDPE supply, so we looked at rPET. We saw various grades, but [one of our converters] came to us with OBP," Norman relates. She adds that other recycled materials had a greyish tint, which the company would have happily attributed to using 100% recycled content—a message that fits in with Childs Farm's overall sustainability goals. But OBP comes from PCR PET bottles, manually collected and sorted, so it has only a slight yellow tint.
Norman notes notes that packaging made from virgin PET is cheaper, but currently, POP is only "slightly more expensive" than virgin material.
Test and trace
Most brands and retailers rely on the testing processes of their suppliers to ensure the packaging and products they use are suitable for purpose and meet the necessary safety and regulatory requirements. This was the case for U.K. retailer Sainsbury's, which is incorporating POP into some of its packaging in the U.K.
Says Ashwin Moorthy, Category Packaging Technology Manager at Sainsbury's, "We have a system within our business for collecting packaging specifications from product suppliers…so we ensure our product supplier is doing the due diligence."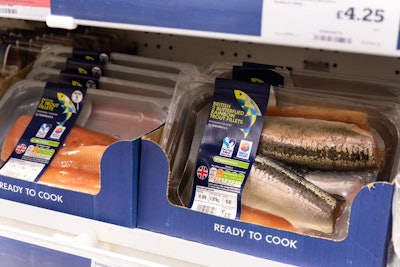 In Sainsbury's case, that supplier is Sharpak, part of Group Guillin, which has been partnering with Bantam for some time. Sainsbury's spent over a year working with Sharpak and Bantam to ensure the OBP provided met their needs. Sharpak helped Sainsbury's understand the supply chain, how the material meets all relevant regulatory requirements such as the EU's REACH (Registration, Evaluation, Authorisation and Restriction of Chemicals) Certification of Compliance, and how the OPB was certified as ocean-bound plastic. In this case, certification provider OceanCycle verifies the material collected, the location where it was collected, who collects it, and how and where it is sorted.
As Raffi Schieir, Director of Bantam International, explains, OceanCycle checks details such as the number of male-to-female informal collectors and if collection is taking place by individuals or in groups, and ensures no child labor is used at any stage of the collection or sorting process. According to Sainsbury's Moorthy, OceanCycle is also open to inspection from both Sainsbury's and Sharpak.
Sainsbury's requires its product suppliers to have checks and balances in place for all materials used. Through OceanCycle and Sharpak, Sainsbury's can get complete "shore-to-store" traceability on its POP.
---
---
Childs Farm is accustomed to traceability due to working with suppliers of different cosmetics raw materials, such as coconut oil. Says Norman, while carrying out audits and ensuring traceability is hard and is a risk, if companies avoid working with communities because of that risk, they will end up not helping them at all.
Investment needed
Bantam recently celebrated its 20,000th metric ton of fully-traceable POP being placed onto the market, but the volumes of OBP currently available remain small, and investment is needed to help the sector grow.
Both Childs Farm and Sainsbury's are able to source a consistent tonnage of OBP, but growth requires adoption from the industry and sharing best practices, Moorthy says.
There is also the worry that firms only use OBP as a marketing tool. "My concern is if this becomes a tick box for consumers—having the [Prevented Ocean Plastic] logo [on products] rather than supporting the organizations that supply the plastic," says Norman.
But with more investment in the industry, costs should remain at competitive levels, improving infrastructure and logistics. And, adds Moorthy, if more businesses galvanize behind OBP and are able to help establish it as an additional and sustainable source of recycled material next to existing supply, this will help bring costs more in line with European levels.
Ironically, the success of all ocean-bound plastics initiatives will be measured when there is no longer any OBP left to collect because the right waste management infrastructure is in place to prevent any plastic from getting anywhere near the coast in the first place.
In the meantime, companies such as Bantam, Childs Farm, Sainsbury's, and Lidl see the advantages of supporting OBP to allow the market to prosper and grow, and ultimately improve the lives of the communities of informal collectors and sorters in the developing world who are living with our plastic waste every day.
Matt Tudball is Senior Editor, Recycling at ICIS, which provides market intelligence on petrochemicals, energy, and fertilizers.
Companies in this article