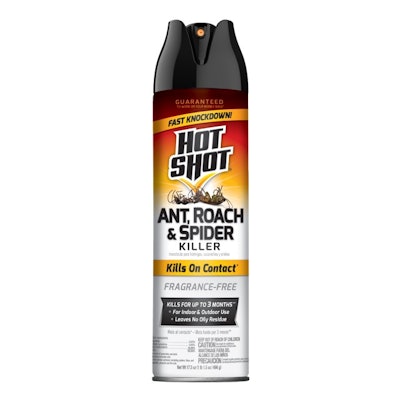 Silgan Dispensing, a global leader in the design, development, and distribution of highly engineered pumps and sprayers in the home, health, and beauty markets, is the supplier of the custom component. The design intent behind the project was an actuator that delivers on the insights and style preferences of consumers. The actuator features a tapered, sleek design, which gives it an approachable, modern appearance while also presenting Hot Shot Ant, Roach & Spider Killer as a highly effective product.
"Consumers tend to be loyal to the brand they are already using, which set the bar high. Our team took on the challenge to design a custom solution that provides shelf impact and differentiation that will bring in new consumers.," says Randall Haire, Strategic Account Manager – Sales at Silgan Dispensing. "Our custom design does exactly that, exceeding consumer expectations, giving Hot Shot Ant, Roach & Spider Killer a premium on-shelf presence."
The custom actuator's design also prevents fingers from getting too close to the orifice of the spray, which helps consumers avoid accidentally dispensing the product onto their fingers and prevents them from having to re-grip the can. Further, Silgan Dispensing provided the ability to color-match the caps to the brand's labels, creating on-shelf differentiation in appearance.
PACK EXPO Las Vegas and Healthcare Packaging EXPO (Sept. 27-29, Las Vegas Convention Center) will reunite the packaging and processing community, offering new products, technologies and solutions, while implementing up-to-date protocols for a safe and successful in-person event. Attendee registration is now open.