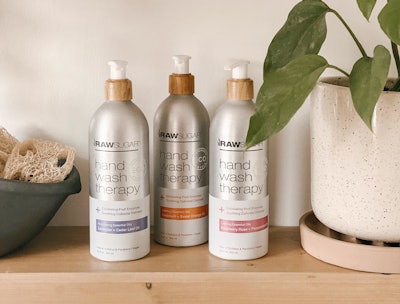 In February 2021, Raw Sugar Living, a Sarasota, Fla.-based aspirational lifestyle personal care brand, expanded its line of clean, premium, and healthy living products with an elevated hand soap line, the Raw Sugar Hand Wash Therapy collection, packaged in recyclable aluminum bottles. Raw Sugar Living was launched in 2014 and since then has mainstreamed premium-quality and vegan-friendly personal care products, including those for the body, skin, and hair, recognizable on-shelf by the company's signature Bamboo Tops & White Bottle packaging.
"Developed around our core belief that a person is only as beautiful as you make them feel, our products are made with certified organic extracts, plant-derived ingredients, eco-friendly packaging, and sustainable bamboo tops—all branded with the 'Living Purely Unfiltered' tagline and personalized with a Sugar note [love note] about loving the skin you're in," shares Ronnie Shugar, co-founder and CEO of Raw Sugar Living.
A key differentiator, and gamechanger, says Shugar, is that the products are made with ingredients processed through a ColdPress Technology™ that preserves more of the whole fruit and the whole plant to nourish skin. He adds, "Think of a superfood smoothie, but for the skin!"
---
---
As company co-founder and CMO Donda Mullis explains, Raw Sugar Living has a rigorous screening process to guarantee the quality, sourcing, and safety of the ingredients it uses. "This is why we developed our own 'FREE OF' Policy & Validated Safety Protocols, to ensure we use the highest quality ingredients in all of our products," she says.
Along with its focus on product quality, Raw Sugar Living is also very mindful of the sustainability of its packaging. "We want to keep our planet pretty and healthy, which means doing our part to move recycling beyond the kitchen and into the bathrooms," says Mullis. "We are delighted to see the beauty and self-care industry as a whole start to move towards more sustainable packaging. It's why we are making a concerted effort to use less virgin plastic and design packaging that is more planet-friendly, biodegradable, and recyclable."

With its Hand Wash Therapy, Shugar says Raw Sugar Living wanted to elevate the category, with innovative, clean formulas, "mood-boosting" aromatherapy, essential oils, and sustainable packaging. The company chose aluminum because of its high recycling rates compared with those of plastics. "Aluminum has the benefits of being a material that is recycled at a much higher level and is 100% recyclable," he says. "Also, it is most likely to be reused by the consumer, which creates the possibility of refill options and even fewer unused materials in the packaging cycle. It also reduces overall the eco-footprint as a material."
---
---
The package used by the Hand Wash Therapy collection is a custom, 12-oz brushed aluminum bottle from a proprietary supplier. The bottle uses the aluminum as the backdrop against which is printed its branding, color-coded copy that differentiates each of the three scents, and a stamp-like icon reading, "Sustainable Eco Bottle." The bottle is printed in five-color offset with a 100% biodegradable, non-toxic, food-grade ink; a proprietary coating is added to protect the graphics. The bottle's dispensing pump uses a collar made from the company's signature faux bamboo material.
As with much of Raw Sugar Product's other packaging, the bottle also provides copy on the company's social give-back program of keeping the world a happier and healthier place. "Through the Raw Sugar initiative, we have donated millions of bars of soap and hand sanitizers—and counting," shares Mullis. "We are dedicated to the belief that clean and healthy personal care products should be more accessible and affordable to all—it's that simple."
The Hand Wash Therapy collection, in three aromatherapeutic scents, is available exclusively at Target stores nationwide, as well as online at Target.com.