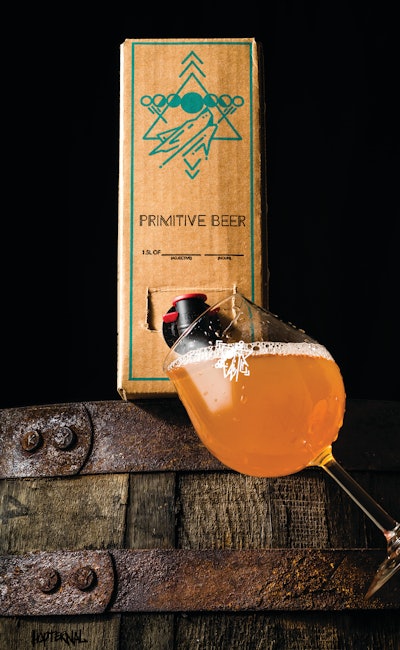 It should be noted that this is a still beer, modelled after Belgian breweries that have long offered such beverages. The lack of carbonation, of course, eliminates the risk of the bag exploding inside of its corrugated box.
"When we launched in 2018, it was a year-old beer we put into these packages," says Lisa Boldt, who owns Primitive with her husband Brandon. "Now we've settled on two-and three-year-old beers, which are more 'finished' in terms the amount of sugar that's left to ferment. That means less likelihood of the bags puffing up as fermentation continues to take place."
Assisting the Colorado brewer on the supply side is Astrapouch, which sources the bags, the corrugated box, and the Astrofil-1000 on which the bags are filled. The bag material, which has a total thickness of 115 microns, is a nine-layer coextrusion that includes PE/EVOH/Nylon/PE. The corrugated is a single-wall B-flute.
Want more on how craft brewers are differentiating themselves through packaging? See how this brewer achieves just that through a progression of differently decorated shrink sleeve labels printed in succession on a roll.
Don't miss how this craft brew startup in Scotland is using a laser coder to achieve enhanced coding and marking that supports its growth.
When it comes to filling, speed is not exactly a priority. When asked how many packages per minute, Boldt says, "You mean how many minutes per package."  It's a manual operation consisting of the following steps:
• remove the tap from the spout that is welded to the bag
• insert the spout into tooling on the filler
• vacuum flush with nitrogen and then vacuum purge it out
• hit a foot pedal to begin filling
• remove filled bag and return tap to spout
• enclose the bag in its corrugated box and seal box with glue
"We buy labels in large quantities to apply to one side of the box," adds Boldt. "It's a big canvas for graphics, and we can feature local artists."
Boldt says the 5-L size is for on-premise customers. The 1.5-L bag-in-box sells for $25 to $33 and is available not only from the Longmont microbrewery but also in select retail channels as well as online. "If you don't mind sour, oaky, and funky, you should try it," she says.

Companies in this article