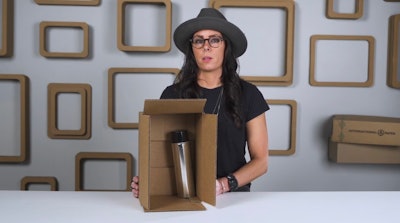 An engaging PACK EXPO Connects video from International Paper, "Intelligent Packaging: Design and eBos," featured Innovation Marketing Manager Katie Diley discussing "the underutilized box and the opportunity it represents for your company."
As Diley explained, when consumers receive a product shipment via e-commerce in a box that is far larger than needed for the item inside, it causes them to question whether the packaging was just an afterthought. Holding up a corrugated shipper with a small thermos rattling around inside, she voiced consumers' concerns: "So, I paid money for this, I've been looking forward to receiving it, and this is how it shows up? It just makes me wonder, were they busy? Were they out of the box that it was supposed to go in? What's the deal? What's going on here?"
Instead, she advised, what you as a brand owner want is for consumers to experience your brand, and you want every single aspect to be flawless. "You want it [the product] to fit tight, you want it to be snug. You don't want it to rattle around. You don't want them to worry if the product is going to be damaged before they even get into the box. You want to give them the peace of mind. People make a lot of money as influencers showing off brands. This is not how you want to show off your brand."
Diley added that underutilizing the box also results in higher freight costs. Because parcel carriers charge by DIM, or dimensional, weight, the more space a case takes up on a truck, the more it costs.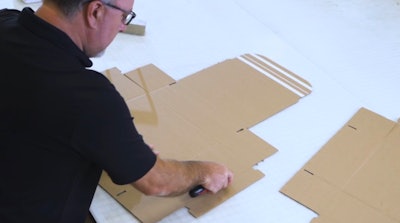 To help brand owners right-size their shipping cases, International Paper offers eBos, which stands for E-Commerce Box Optimization Service. Taking viewers with her to International Paper's Aurora, Ill., customer commitment center—one of three the company operates—Diley walked viewers through the eBos process.
To begin, the company does a deep dive into the brand owner's shipment history, using a model developed by its IT department so it can recommend the ideal box size based on the brand's product mix. Considerations include total utilization, shipping costs, the square footage of the material, and more. "This new box suite is where we'll get the first glimpse into those efficiency improvements and freight savings that we talked about earlier," Diley said.
From there, designers receive the new dimensions, review them, and make modifications based on their knowledge and capabilities. International Paper has more than 200 structural and graphic designers, whom customers have access to at no extra charge. The designers can provide detailed recommendations on the best packaging, looking aspects such as automation versus manual setup, functionality, performance, and style choice, among other variables.
According to Diley, the company's designers have access to more than 1.8 million IP designs. "And if they can't find one there, no worries. They'll just do it from scratch," she added. "Now that your shipment history has been analyzed, and we've recommended the ideal box suite, it's time to talk implementation and celebrate the savings we've helped uncover."
To view demos from International Paper (available through March 31, 2021) and to add the company to your MyConnects Planner, click here.
Companies in this article