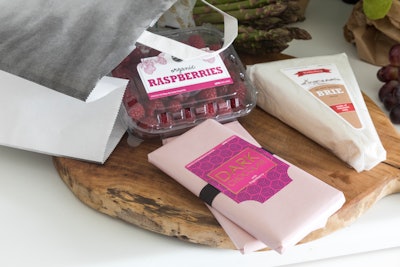 Building on its existing RafCycle® label liner waste collection and recycling service, UPM Raflatac has now closed the loop by using the collected liner material to produce its new LabelLoop™ line of pressure-sensitive paper labels, made from 30% post-consumer waste fiber, with a portion of that PCW coming from recycled liner.

"It's absolutely unique," shares Scott Conrad, Segment Manager for UPM Raflatac. "The only reason we're able to do this is because we're the only label company in the world right now that's collecting recycled liner and turning it into any sort of resource. With LabelLoop, we're definitely the first company using a platform where we're able to create a truly circular solution."
RafCycle by UPM Raflatac was launched in 2010 in Europe and in 2018 in the U.S. to collect PET and paper label liner waste from converters and packagers free of charge for recycling. There are now more than 200 partner companies globally, with approximately half a million pounds of liner recycled through the program per year in the U.S. alone.
Until UPM's launch of LabelLoop, the waste liner material went back into the typical pulp or PET recycling stream. Says UPM, "Silicone and adhesive residue on waste liner causes major contamination, so liner that does get recycled is often downcycled into lower-quality material."
To create LabelLoop, which focuses on paper waste, UPM partner Sustana Fiber de-siliconizes and converts the material collected by RafCycle into recycled pulp, which is then turned into paper label facestock by other suppliers. In the final step, UPM uses the post-consumer waste (PCW) facestock to make new label material. The LabelLoop line currently comprises five products, including four different semi-gloss, or prime, options, and one laser direct mail option. Says Conrad, UPM plans to expand the number of LabelLoop offerings in the future.
According to Conrad, it took nearly two years to bring LabelLoop to market, with one year spent vetting potential partners and six to 12 months developing and testing the processes and materials. "Being a big company, we have many suppliers, but we had to select one that was not just a high-quality supplier, but one that was a like-minded sustainability partner," he said. "We really put some of our suppliers through the ringer, if you will, to find someone willing to do this for us. We really needed someone who could use this pulp and turn it back into a high-quality facestock, and the only way they could do that was by taking extra care within their process and making sure they had all their quality stations in check."
Conrad adds that a lot of work was required on UPM's end as well to develop the product. "We had to think about whether the facestock was compatible with the adhesives we're using, was it going to function as a label out in the market, and was it strong enough to convert," he explained. "We also had to take printing into consideration and a lot of other technical parameters. All of that work was done behind the scenes by our technical team, and they did a fantastic job with this particular face."
According to UPM, LabelLoop labels offer the same high standards of print quality and high-speed converting as its standard offering and are suitable for a variety of end uses. The labels are also Forest Stewardship Council (FSC™)-certified, which allows brands to show their commitment to responsible raw materials sourcing.
To view demos from UPM Raflatac (available through March 31, 2021), and to add the company to your MyConnects Planner, click here.
Companies in this article